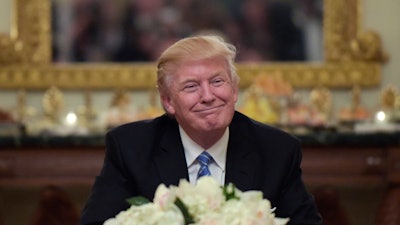 President Donald Trump's pick to represent the U.S. in trade negotiations told Congress Tuesday that the U.S. should have an "America first trade policy."
Speaking at his Senate confirmation hearing, Robert Lighthizer said, "We can do better in negotiating our trade agreements and stronger in enforcing our trade laws."
He is an experienced trade official who has criticized some Republicans for being too pro-free trade. Trump has nominated Lighthizer to be the U.S. trade representative.
Lighthizer has said, historically, conservatives have been skeptical of "unbridled free-trade policies."
Nevertheless, free trade Republicans on the Senate Finance Committee praised Lighthizer at his confirmation hearing.
"Mr. Lighthizer is indisputably qualified to serve as USTR, and I believe he has a strong base of bipartisan support," said Sen. Orrin Hatch, R-Utah, who chairs the committee. "If we keep this process focused on Mr. Lighthizer and the position he has been nominated to fill, there is no reason he should not be approved by this committee and confirmed by the Senate in short order."
He served as deputy U.S. trade representative under President Ronald Reagan. Lighthizer would play a key role in Trump's trade policy.
Trump has broken with most Republicans in his criticism of free trade agreements. He pulled the U.S. out of the 12-nation Trans-Pacific Partnership pact and has said he will renegotiate the North American Free Trade Agreement with Canada and Mexico.
NAFTA was negotiated by President Bill Clinton. It was ratified by the Senate with broad Republican support.
Trump has said he would ink one-on-one trade deals with individual countries. Trump has also signaled a tough stance on trade with China, including levying a hefty tariff on Chinese imports.
Lighthizer played a senior role during Bob Dole's 1996 presidential campaign. The former senator from Kansas introduced Lighthizer at Tuesday's hearing, calling him "uniquely qualified."
Lighthizer has more recently worked on trade issues as a lawyer, representing manufacturing, agricultural and high-tech companies, according to his law firm biography. Lighthizer's bio also states that he focused on "market-opening trade actions on behalf of U.S. companies seeking access to foreign markets."