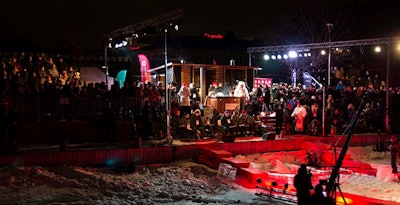 Each February, entrepreneurs and investors from Finland and around the world converge on the coastal city of Oulu to participate in what is likely the most unusual — and coldest — capital fundraising event on the planet.

BusinessOulu invited Manufacturing.net to the city, located just more than 100 miles south of the Arctic Circle, to view the fourth incarnation of its Polar Bear Pitching event.

Representatives of 18 startups touted their respective companies to an assembled audience of investors and onlookers — all while standing waist-deep or more in the city's harbor.

Although locals repeatedly apologized to visiting reporters for the unseasonable warmth last week — it hovered near the freezing point — the swimmers nonetheless seemed excited to escape the icy waters for the nearby hot tub and, as is the custom in Finland, the sauna.
An official from Finnish healthcare software startup Diske begins his pitch to the crowd. Some participants braved the near-freezing water for more than four minutes to describe their products and services.
Relieved participants enjoy the hot tub following their pitches. "JBear," the mascot for the proceedings, interviews the representative from Teach Me Now, an online platform that matches tutors with prospective learners and hails from the decidedly non-arctic United Arab Emirates.
The crowd on Oulu's waterfront listens to the pitches. The panel of investor judges sat just in front of the hot tub and handed out grades that ranged from "barely awake" to "awesome."
Representatives from Helsinki's Virta Ltd., which developed a platform for electric vehicle charging networks, celebrate their victory in the 2017 Polar Bear Pitching event. The company secured the top prize of 10,000 euros and, they hope, additional attention from venture investors.