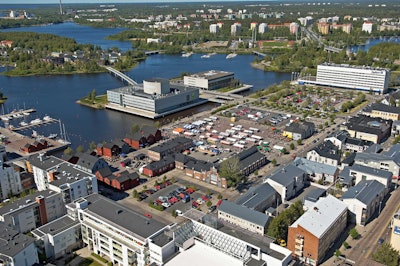 About 120 miles south of the Arctic Circle, the seaside university city of Oulu, Finland, is betting on a flurry of tech startups to spark an economic recovery.

Oulu — pronounced "o-lew" — served for centuries as an important trading center and long supported a paper industry supplied by plentiful nearby forests. More recently, however, the city rose to prominence due to Nokia, the Finnish telecommunications giant that dominated the early mobile phone market.

But just as the ascent of Nokia led to an economic boom in Oulu, home to one of the company's three Finnish facilities, the advent of the smartphone became the city's downfall. Nokia's share of the cellular phone market plummeted from more than 50 percent a decade ago to less than 5 percent by late 2012.

That year, Nokia officials announced 10,000 layoffs — a decision that cut the company's Oulu workforce in half.

Nokia ultimately sold its handset division to Microsoft in early 2014 as its focus shifted to technology and network operations. Job cuts, however, are expected to continue through next year.

Economic conditions in Finland also hurt Oulu's economy, from global turmoil in the paper industry to a decline in trade with Russia amid its neighbor's economic difficulties and international sanctions. Finland's unemployment rate sat at just more than 8 percent earlier this year, and Oulu's rate is reportedly about 17 percent.
Local economic development officials, however, described a growing city with a young population, highly skilled workers and an entrepreneurial spirit — particularly in the tech industry.
BusinessOulu invited Manufacturing.net to the city last week to hear from both established tech companies and ambitious startups.

The visit coincided with the Oulu's Polar Bear Pitching event, in which startup executives ask for investment capital while standing waist-deep in the city's near-freezing harbor.
Hundreds Of Startups
Economic development officials said that more than 500 startups debuted in the area over the past three years, and that the city boasts about 17,000 high-tech jobs — including 7,500 in research and development.

Young Oulu-based companies include sensor developer FocalSpec, medical imaging software maker Kide Systems, microprocessor firm Minima and TactoTek, which develops printed electronic components.

The city is also home to a new game development campus along with offices for numerous multinational corporations, who showed increased interest in Oulu after Nokia cut ties with handsets.
Officials said that the challenge for many of those companies — and for Oulu in general — is to convert promising ideas from the research stage into commercialization and production.

Nokia, meanwhile, hopes to remain a cornerstone of the economy in central Finland. The company last year acquired a pair of French companies — telecom giant Alcatel-Lucent and connected health device firm Withings — amid efforts to focus on cloud computing, the Internet of Things and 5G technology.

Last week, Nokia disclosed the world's first successful test of a 5G connection and announced a collaboration with the University of Oulu on a new center to take on future connectivity challenges.

And this summer, the company and its partners will host a 5G "hackathon" to seek, according to Nokia automation manager Mikko Nissi, "mind-blowing innovations that will revolutionize factory environments."