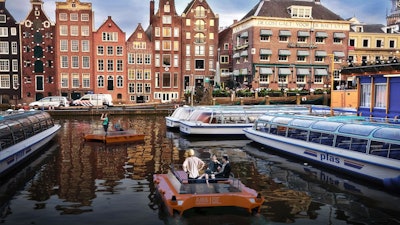 Amsterdam will host what organizers are calling the world's first large-scale research program for autonomous boats in metropolitan areas.
The five-year, nearly $28 million Roboat initiative will be conducted by researchers from the Massachusetts Institute of Technology and two Dutch universities.
Researchers touted a wide range of potential applications that could stem from the project. In addition to autonomously moving both people and goods, the vessels could eventually provide on-demand, temporary infrastructure such as bridges or stages.

Amsterdam Institute for Advanced Metropolitan Solutions scientific director Arjan van Timmeren added that the project will explore underwater sensing.
Autonomous boats could help remove waste from canals — particularly thousands of bicycles in the pedal-friendly Netherlands — while underwater robots could detect diseases at early stages.

"Roboat offers enormous possibilities," van Timmeren said in a statement.

The initiative's first prototype boats are expected to be deployed next year.