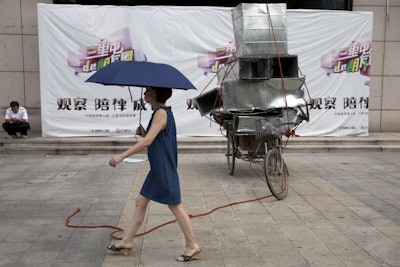 China's leaders are promising to rein in aluminum production that is flooding global markets and threatening jobs in the United States and Europe, but its producers have ambitious plans to expand.
The glut has cut costs for Western buyers of aluminum used to make lighter cars and aircraft. Prices have fallen so low, though, that U.S. and European smelters are closing, prompting demands for trade penalties.
An array of Chinese industries from aluminum, steel and coal to makers of solar panels and glass mushroomed over the past decade until supply vastly exceeded demand. The surplus has widened as China's economy cooled.
The Communist leadership has been promising since 2009 to cut overcapacity and reduce reliance on energy-guzzling heavy industry. But they face resistance from local officials who are reluctant to lose jobs and tax revenue.
Plans issued in February call for shrinking the steel and coal industries at a loss of 1.8 million jobs. The Cabinet says it plans to close 45 million tons of steel production this year and has done about one-third of that so far.
Beijing agreed at the Group of 20 meeting of major economies this month to cooperate more closely on steel by forming a global forum to exchange information on the status of efforts to shrink its industry. But it avoided any binding commitments.
Beijing has yet to issue plans for other industries but affirmed its pledge to reduce excess capacity at an earlier G20 meeting in July.
Despite that, Chinese smelters that make more than half the world's aluminum are adding millions of tons of capacity, supported by what Western competitors complain are improper subsidies including low-cost power. Output in June hit a monthly record of 2.7 million tons, according to the Aluminum Institute in London.
"The industry overcapacity situation is more severe," said the newspaper National Business Daily this month.
Chinese producers dispute that.
"We believe that if there is an overcapacity in the aluminum industry, then it must be temporary," said Mo Xinda, a researcher for the aluminum branch of the China Nonferrous Metals Industry Association.
Aluminum gets less public attention than Chinese steel exports, on which Washington imposed anti-dumping tariffs in July. But pressure for official action is rising: The Aluminum Association, a U.S. industry group, appealed to regulators in April to investigate Chinese producers.
The United States has five aluminum smelters left, down from 14 a decade ago, according to the association. It says the number of American jobs in alumina refining and primary aluminum production has fallen to 5,000 from 12,000 in 2013.
Aluminum producers in Europe say its industry is being driven out of business by subsidized Chinese exports.
The global price of aluminum has fallen by 40 percent since 2011 and sits at about $1,600 per ton after dipping below $1,500 last year. That is far below the $2,200 level most Western smelters need to be financially viable, according to analyst Lloyd O'Carroll of CRU Group, a research firm.
Chinese output grew by 1,000 percent from 2.8 million metric tons in 2000 to 31.7 million metric tons last year, according to the International Aluminum Institute. At the same time, annual production outside China rose 19 percent to about 25 million metric tons.
Tianshan Aluminum Co. in Xinjiang in the northwest announced in June it is adding 1 million tons of production capacity. East Hope Group in Shanghai is adding 680,000 tons. China Resources Co., a national-level state company owned by the Cabinet, plans to build a 500,000-ton smelter in the northern city of Luliang in Shanxi province.
"This kind of growth is not warranted by conditions in the marketplace globally and certainly not in China," the president of the Aluminum Association, Heidi Brock, told a U.S. government hearing in April.
Treasury Secretary Jacob Lew pressed Chinese officials for action on aluminum at an economic dialogue in June and again at the G20 meeting in July.
Chinese officials told Lew they have no plans to force the closure of aluminum capacity because they used up their "political capital" on coal and steel, according to a person who was briefed on the meeting and asked not to be identified further.
Shutdowns of coal and steel producers are costly: The government is promising to spend 100 billion yuan ($15 billion) to help miners and steelworkers find new jobs.
And while smelters in central and southern China are closing due to higher costs there, producers are opening in the north, where abundant coal supplies allow them to generate their own power.
That reliance on China's cheap but high-sulfur coal has prompted environmental warnings.
"China cannot meet its carbon reduction commitments without both eliminating energy subsidies and curtailing outdated, carbon-intensive production in the aluminum industry," said Brock.