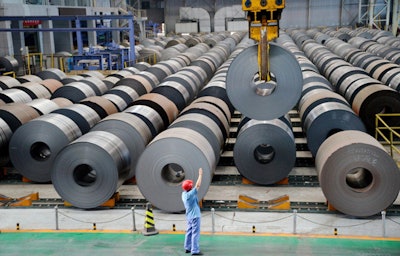 Chinese officials said Friday that steel production hit record levels last month amid continued calls from Western steelmakers to curb the country's exports.

Bloomberg cited National Bureau of Statistics reports that Chinese mills produced 70.65 million metric tons of steel in March, a nearly 3 percent increase compared to March 2015 and, according to a state-owned research firm, a new monthly record.

Chinese steelmakers cut production late last year amid a global oversupply, which led to a price increase at the beginning of 2016. Bloomberg reported that as the country's economy stabilized, mills rushed to take advantage of the price increase last month.
Overall, the country's steel supply for the first quarter of the year fell by more than 3 percent compared to last year, and most believe that production will fall short of 2015 levels as policymakers shift China's economy away from heavy industry.

Analysts, however, told Bloomberg that the March production increase would nonetheless stem the brief rally in steel prices.

China accounts for about half the global supply of steel and exported a record amount in 2015, which hammered steel producers in other nations.

U.S. steelmakers long warned of the impact of cheap Chinese imports on the domestic steel market, and India-based Tata Steel is seeking a sale of its U.K. operations after determining that current tough conditions "are likely to continue into the future."