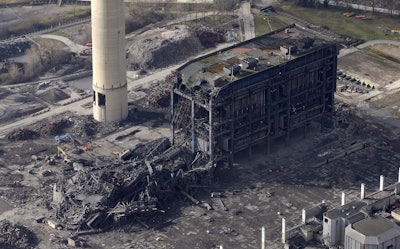 At least one person was killed and five others injured Tuesday during the partial collapse of a shuttered U.K. power plant.

Three people remained missing and search operations are ongoing, but local authorities told the BBC that they were unlikely to be found alive.
The coal- and oil-fueled plant at the Didcot Power Station — located about 60 miles west of London — was closed in 2013 and is scheduled for demolition.

A contractor was reportedly working at the site when it collapsed. Witnesses reported a loud explosion and a plume of dust was sent into the air.
Dozens of people were treated for dust inhalation, but authorities did not find any hazardous materials. The complex also houses a still-operating gas-fired plant.

No cause of the collapse has been determined.