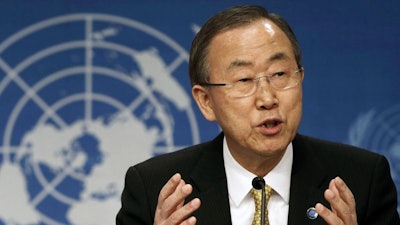 The U.N. secretary-general on Wednesday challenged investors around the world to at least double their investments in clean energy by 2020, saying that "we must begin the shift away from fossil fuels immediately."
Ban Ki-moon told an investor summit on climate risk that increasing investment in clean energy is critical in following up on the landmark agreement to tackle climate change reached in Paris last year.
Ban said about $330 billion was invested in clean energy last year, but that is far from what he calls the "clean trillion" needed per year in the decades to come.
The U.N. chief also said he has invited all of the world's heads of states and government to attend an April 22 signing ceremony for the climate agreement, and that 55 countries' signatures are needed to put the agreement into effect.
The U.N. and some world leaders have been reaching out to the business community since the Paris agreement, urgently seeking financial support for efforts to slow rising global temperatures.
"Sustainable, clean energy is growing, but not nearly fast enough to meet energy demand," Ban said Wednesday.
But last week, the head of the International Energy Agency, which advises oil-importing countries, told global leaders and business executives at the World Economic Forum in Davos that the plunge in oil prices is a growing threat to the world's goal to reduce emissions through the increase in renewable energies.
Fatih Birol said energy efficiency has been driven largely not so much by environmental concerns but an interest in saving money, which is disappearing as fossil fuels become cheaper.
And the head of the International Chamber of Commerce, John Danilovich, told The Associated Press in Davos that adapting investment to meet the lower-emissions goals in the Paris agreement will be among several struggles for global businesses this year.