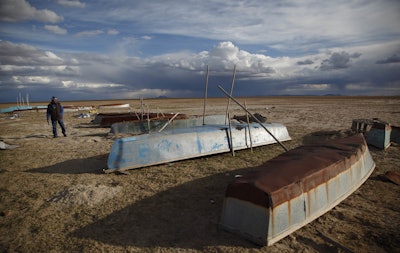 Lake Poopo, formerly Bolivia's second-largest lake at 380 square miles, has officially been declared "dried up." Only 2 percent of its water remains.
This lake, which sat at a lofty 12,000 feet above sea level on the semi-arid Andean plains, has evaporated and rebounded before. But some experts say that this time the lake's disappearance could be permanent.
Warmer temperatures lead to faster evaporation, and the water that is supposed to be funneled from Lake Titicaca has been greatly reduced by the country's water managers and siphoned off by agriculture and mining.
The images below show Lake Poopo in April 2013 (on the left) and on Jan. 15, 2016, on the right.
"The Bolivian government is blaming El Niño and climate change, and certainly those played a role," says Lisa Borre, a researcher with the Cary Institute for Ecosystem Studies. "But they are not saying that they have also failed to implement the management plan for the basin."
Birds, fish and people who used to inhabit the lake and its shores have since gone, and the Associated Press reports that more than 3,250 residents have received humanitarian aid.
Abandoned boats and cracked earth now occupy the lakebed.
Borre believes that the return of rainfall will fill the basin back in. German glaciologist Dirk Hoffman, however, told the Associated Press that "this is the picture of the future of climate change."
"This is the kind of change in hydrological systems that we'll see more of with a warming climate," says Sandra Postel, director of the Global Water Policy Project. "We'll have to plan for more evaporation, whether that's a lake or a drinking water reservoir."
Do you think this is a trend the world will increasingly have to face? Comment below or tweet @MNetKatie.