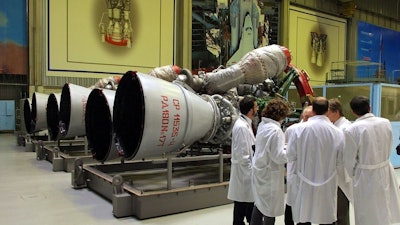 U.S. defense contractors might soon be able to utilize Russian-made rockets to send cargo into space once again.
A massive year-end spending bill to avert a government shutdown reportedly includes a provision that would strike a cap on Russian-made rockets, which was implemented by Congress in the aftermath of Russia's intervention in Ukraine.
Currently, the United Launch Alliance — a joint venture of Boeing and Lockheed Martin that serves as a primary Defense Department space contractor — can only purchase nine RD-180 rocket engines.
Republican Sen. Richard Shelby of Alabama — whose state is home to ULA's production facility — said that the cap was reckless and could result in a years-long gap between Defense Department launches, "which undermines our national security."
"While I strongly believe that we should not be dependent upon any foreign power for access to space, it is far too risky to ban the RD-180 until we have a domestically-produced engine that has the same capabilities," Shelby said.
The spending bill also includes funding for development of an American-made rocket, which the Defense Department suggested might not be ready by its 2019 deadline.
Not everyone, however, believes that lifting the cap is a good idea.
Sen. John McCain, R-Arizona, slammed Shelby and Sen. Richard Durbin, D-Illinois, over the provision and suggested that he could vote against the spending bill in its entirety.
"This omnibus appropriations bill will send hundreds of millions of dollars to Vladimir Putin, his cronies and Russia's military-industrial base as Russia continues to occupy Crimea and destabilize Ukraine," McCain said.