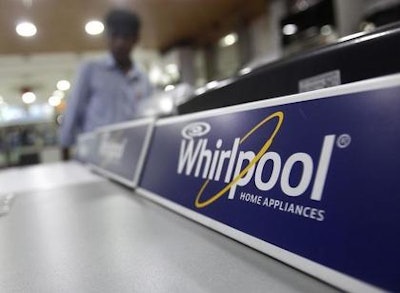 Whirlpool Corporation has filed an antidumping petition with the U.S. Department of Commerce and the U.S. International Trade Commission to stop Samsung and LG's dumping of washers into the United States. The petition points to an alleged "repeated pattern" of pricing below cost by Samsung and LG that is, according to Whirlpool, "injuring American washer manufacturers and threatening American manufacturing jobs."
"Simply put, beginning in 2013, Samsung and LG replaced their dumped washers from Korea and Mexico with dumped washers from China," said Marc Bitzer, president and chief operating officer for Whirlpool Corporation in a press release. "Since then, Samsung and LG have blatantly ignored a previous U.S. government order by continuing to dump washers into the United States. At Whirlpool, we know that open, rules-based trade ensures the highest level of innovation and choice for consumers. Our ability to innovate, invest and continue to manufacture here in the U.S. is undermined when foreign competitors willfully defy U.S. government rulings. We have continuously monitored this situation during the past several years and have spent the past several months preparing this petition as the next step in an ongoing effort to prevent this serial dumping."
The current petition covers full-size top-load clothes washers and full-size front-load clothes washers. It also includes certain washer components for large residential clothes washer cabinets, tubs and baskets/drums.
According to The Wall Street Journal, the Commerce Department will have to use estimated production costs in order to rule on whether the Korean companies are selling these products at unfairly low prices. Another U.S. agency, the International Trade Commission, would determine whether the pricing practices are injuring Whirlpool and other U.S. manufacturers.
In a similar case in 2013, Whirlpool announced that the United States International Trade Commission unanimously ruled that Samsung and LG had unlawfully priced residential clothes washing machines, hurting the U.S. clothes washer industry. Several brands were subject to duties on the imports of their machines at the time.