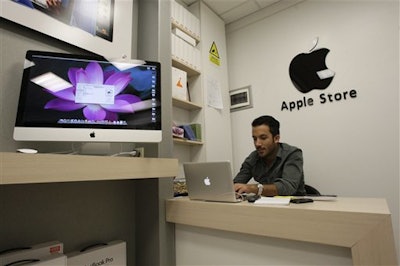 In this picture taken on Saturday, Sept. 8, 2012, Iranian shopkeeper Amir Ali Beheshti, an Apple products seller, works on a laptop in his store, in an electronics market in northern Tehran, Iran. (AP Photo/Vahid Salemi)
TEHRAN, Iran (AP) — The Great Satan still sells in Iran.
Even after decades of diplomatic estrangement and tightening economic sanctions, American products manage to find their way into the Iranian marketplace. The routes are varied: back channel exporters, licensing workarounds and straightforward trade for goods not covered by the U.S. embargoes over Iran's nuclear program.
It offers lessons in the immense difficulties facing Western attempts to isolate Iran's economy, which has deepening trade links with Asia where distributors serve as middlemen to funnel U.S. and other goods to Iranian merchants. But sanctions are also battering Iran's currency and driving up costs for all imports, which could increase domestic pressures on Iran's ruling system.
Although the number of Made-in-America items in Iran is dwarfed by the exports from Europe, China and neighboring Turkey, some of the best-known U.S. brands can be tracked down in Tehran and other large cities. It's possible to check your emails on an iPhone, sip a Coke and hit the gym in a pair of Nikes.
"I'm always looking for what new Apple products are in the windows," said Kamyar Niaki, a 19-year-old freshman at Tehran's Azad University, as he played Angry Birds on his iPhone 4S — about $800 in Iran — at a northern Tehran shopping mall popular with young people for its selection of computers, mobile phones, software and apps.
The iPhones and other Apple products typically enter Iran through networks in Dubai or from Asian distributors, which also ship everything from lower-cost MacBook fakes to bogus Levi's and Tommy Hilfiger.
Similar trade routes from the Far East or nearby Dubai also bring in Westinghouse appliances, Microsoft programs. And they were probably also responsible for the Epiphone model guitar by Nashville-based Gibson that Ali Mahmoudi bought for his oldest son last week for about $1,200 — more than double the price in the United States.
"My son learned from his classmates in high school that American guitars are still the best," said Mahmoudi, an engineer.
Middle-aged Iranians have memories of a time when stores were awash with U.S. products and the Cadillac was the gold standard on the roads, which still have some Detroit behemoths from the 1970s weaving through Tehran's relentless traffic.
The U.S. became vilified as the Great Satan after the 1979 Islamic Revolution, and chants of "Death to America" remain a staple at Friday prayers at Tehran University. But even Iran's leadership could not stamp out the taste for Coke and Pepsi.
Both iconic American drinks have been mainstays for years in one of the Middle East's largest consumer markets with 75 million people. The U.S. Treasury sanctions on Iran give some leeway for food and beverages, allowing The Coca-Cola Co. and PepsiCo to work through non-U.S. subsidiaries to ship their syrup to Iranian bottlers and distributors.
It's brought some backlash from hard-liners who cringe at the popularity of Coke and Pepsi at the expense of local rival Zamzam Cola, named after a venerated well in the Islamic holy city of Mecca. Zamzam is owned by a government-backed foundation. Yet in the cola wars, Iran is struggling.
Reza Kazemi, a worker at a government-owned Tehran hospital, carried a family-size Coke — 1.5 liters at the equivalent of 50 cents — among his groceries from a shop in downtown Tehran. "My wife and three children like it," he said. "It's delicious."
The same shop stocks Gillette razors and Pampers diapers, both made by Procter & Gamble Co., whose health care products are not blocked by sanctions.
"Since a long time ago, Iranians have learned that American products are among the best," said Masoud Mohajer, an economic columnist who writes for Iranian newspapers and journals. "If the government bans them, they will infiltrate the Iranian market through smugglers since there is a market for them because of their reputations."
Last year, American companies exported $229 million worth of products to Iran not blocked by sanctions, according to U.S. government and independent figures cited by the U.S. Institute of Peace. The list is as eclectic as it gets: Frozen bull semen, artificial teeth, chewing gum, cranberries, toothpicks and antibiotics. The top U.S. export last year: more than $11.2 million worth of butter.
The figure has seesawed over the years, from a high of $747 million in U.S. exports to Iran in 1992 to just $28,000 in 1998, the institute said. Iran also buys U.S. commodities such as wheat, corn and soybeans.
Until U.S. sanctions were tightened in recent years, some major American companies such as heavy equipment maker Caterpillar, General Electric Co. and Hewlett-Packard Co. had a presence in the Iranian market through non-U.S. affiliates or distributors. But all later said they were canceling any ties with Iran — following similar moves by European heavyweights including Germany's appliance maker Siemens AG, steel and machinery company ThyssenKrupp AG and Italian energy company ENI.
Much of the sanctions-covered American products arrive via networks in Asia in which buyers legally purchase U.S. goods and then reship them to Iran. Previously, the primary route was through Dubai, but authorities in the United Arab Emirates have significantly stepped up inspections of Iran-bound cargo for possible U.S. sanctions violations.
"Dubai is like a hypermarket for Iran," Ahmed Butti Ahmed, executive chairman and director general at Dubai Customs, said in April.
A Tehran-based technology industry analyst, Jafar Tehrani, said the UAE is still a main jump-off point for iPhones and other Apple products coming to Iran.
"Technology does not recognize borders. Apple is very popular in Iran, and customers have no problem except after-sale services," said Tehrani.
This is where hackers such as 23-year-old Amir comes in. He charges between $5 and $10 to "jailbreak" an iPhone to work on Iran's domestic mobile network. "I have 10 to 15 customers every day," said Amir, who gave only his first name because reprogramming the phones is illegal.
That's about the same number of daily sales of Apple laptops and iPhones at Mansour Ahadi's electronics store in the Tehran digital mall.
"We import them from neighboring countries simply because there is a high demand," he said.
But there are clear pressures. A nosedive in the value of the Iranian rial — which hit an all-time low against the dollar this week — has sharply raised the cost of imports. This has almost doubled prices of many imported items from cosmetics to cell phones to spare parts of cars.
For Iran's extensive middle class — many with university degrees and near Western-standard lifestyles — the blows to their buying power could bring more heat on authorities as they try to ride out sanctions.
Amir, the iPhone jail-breaker, summed up his slice of Americana in the middle of Tehran: "I earn from Apple, I drink Coke and I dream of buying a Ford Mustang."
___
Murphy reported from Dubai, United Arab Emirates.