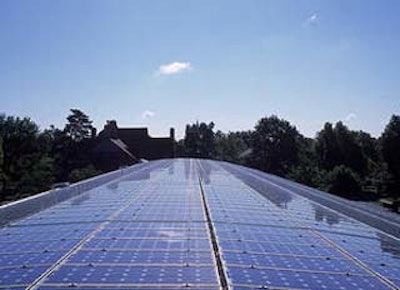 BRUSSELS (AP) — The European Union launched an anti-dumping probe into Chinese solar panels on Thursday after an industry association claimed the products were being exported for less than it costs to make them.
The complaint, filed in July by a group of 25 producers of solar gear, including companies from Germany, Italy and Spain, is the biggest-ever anti-dumping claim filed with the EU.
China, the world's largest producer of solar panels, accounts for about two-thirds of global production. It exported solar panels and associated key components worth around €21 billion ($26.5 billion) to the 27-nation bloc in 2011, the EU said in a statement.
Rivals accuse Chinese companies of selling their products to other markets at a price less than what they charge in China, operating at a loss in order to put competitors out of business.
Chinese manufacturers of solar — or photovoltaic — panels have denied this, noting that the industry is in the midst of a radical transition as the cost of such products drop.
In the United States, where a separate anti-dumping and anti-subsidy case has been under way for about a year, the coalition of American solar manufactures applauded the EU move.
The EU investigation is expected to last 15 months, but that if there is strong early evidence of dumping that it is possible to impose temporary tariffs within nine months, the bloc said.
EU Commission spokesman John Clancy said the bloc's executive was legally obliged to open the probe after receiving a valid complaint from an industrial grouping.
"This is part of a mature trading relationship," Clancy. "Trade defense is part of this relationship."
The EU opens an average of about 20 anti-dumping import cases a year. Just over half of them result in the imposition of duties.
In Beijing, China's Ministry of Commerce expressed "deep regret," and urged the EU to resolve trade frictions over solar panels through negotiations.
"Restricting photovoltaic cells not only hurts the interests of industries on both sides but also will destroy the healthy development of the global PV (photovoltaic) industry and clean energy," spokesman Shen Danyang said in a statement.
China has a history of retaliating against trade complaints by filing their own complaints against the foreign companies, which competitors say are frivolous.
German Chancellor Angela Merkel discussed the issue with Chinese officials during her visit to Beijing last week. Germany prefers solving this problem through negotiations, rather than an EU investigation.
In May, the U.S. Commerce Department decided to levy tariffs against several Chinese manufacturers, alleging they illegally sold their products below cost.
A preliminary assessment from the U.S., which imported more than $3 billion in solar cells and panels from China last year, said China was dumping the products on the U.S. market at margins ranging from 31 percent to 250 percent, and levied temporary tariffs to counteract the distortion.
Two U.S. agencies will issue their final determinations over the next two months.
"We believe that, similar to the United States, the European Union will come to the conclusion that the Chinese are violating EU and international trade law," said Gordon Brisner of the Coalition for American Solar Manufacturing.
___
Joe McDonald in Beijing and Josh Lederman in Washington contributed to this report.