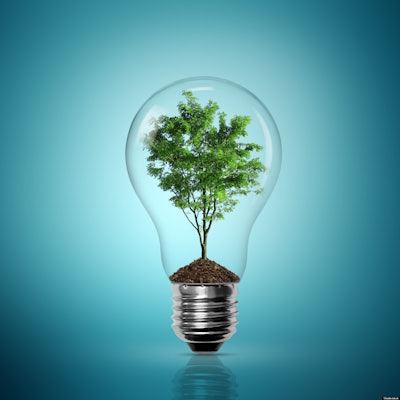 Consumers have been adopting green products and practices for the last several years, and products that point to a greener heritage enjoy a halo effect that increases their desirability. Manufacturers have been going greener as well, because of government regulations for greenhouse gas emissions, wastewater treatment and the use of toxic chemicals. In addition, many manufacturers have noticed their operations are greener not only because of their efforts to meet mandates but because of their adoption of lean manufacturing principles.
One of the primary objectives of lean manufacturing is to reduce waste. Since reducing waste is also an objective of going green, the two programs reinforce each other. Here are a few ways going lean can help you go green at the same time:
Preventative Maintenance
Core tenets of lean manufacturing include keeping the workspace organized and clean, and to improve process reliability. Keeping machinery and equipment in peak condition improves its efficiency, therefore using less energy. More efficient operation also means the machine will use less water or oil for processing, further contributing to the company's green efforts. Plus, gauge and machine calibration results in fewer out of tolerance parts.
In addition, regular preventive maintenance helps ensure that the machine runs reliably. It will stay within process parameters better and hold to its required tolerances. This results in fewer scrapped parts and less work on parts that can be salvaged. Not only does this help the manufacturer control costs and adhere to schedules better, it reduces energy consumption and means less waste sent to landfills or recycling centers. As an added bonus, better schedule adherence results in happier customers because they receive orders in full and on time. Regular preventive maintenance should be an important part of every lean and green initiative.
Improve Product Reliability
Error proofing processes is an important part of the lean manufacturing philosophy. Error proofing should be considered in the early stages of product planning and reassessed at periodic intervals during the product's lifecycle. When design and manufacturing processes are synchronized to eliminate the possibility of incorrect assembly, for example, product reliability increases. Manufacturers save the cost of additional testing and rework of incorrectly built products. Eliminating scrap and waste contributes to the company's green efforts. Customers enjoy the reliability as well, which means they are more likely to place repeat orders.
Product Design and Product Life Cycle Considerations
Manufacturers can do a lot to lean and green existing products and processes — but designing products with the principles of these disciplines in mind saves money and effort from the start and results in a greener product.
Designing products for longevity is one of the best ways to decrease environmental impact, simply because the products would be replaced less often. In some cases, engineers can specify components made from renewable materials or choose options that use less harmful materials. The product can be designed to enable easy updates and upgrades rather than disposal and replacement. Designing products for easy, reliable assembly means that when the time comes, disassembly will be simpler so recyclable materials become more accessible.
Including the cost and effort of recycling components in the design stages helps companies assess the total cost and impact of a new product over it's life cycle. When evaluating alternative sources or materials, engineers should consider the total environmental impact, including energy consumption used for transportation, logistics and ultimately recycling at the end of the item's useful life. Effective product design improves the manufacturer's lean efforts as well as their green initiatives.
By keeping the principles of lean manufacturing firmly in mind, opportunities to improve operational efficiency and reduce waste become apparent. Every effort to include lean principles in manufacturing and product design also impacts the company's efforts to go green. Lean and green should be on the strategic plan of every manufacturer.
Travis Mai, otherwise known as "The Hitch Guy", is the current eCommerce Sales and Training Manager at CURT Manufacturing. Located in Eau Claire, WI, CURT Manufacturing adheres to both lean and green manufacturing principles and uses largely American-made materials in their products.