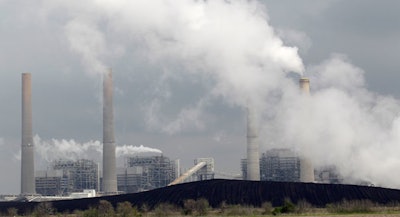 President Barack Obama will order the federal government on Thursday to cut its emissions of greenhouse gases by 40 percent, as the U.S. seeks to spur other nations to get serious about climate change.
Obama's executive order will also direct the government to ramp up use of renewable energy sources to 30 percent of the federal government's consumption. The White House said U.S. taxpayers could save up to $18 billion in electricity costs by reducing greenhouse gases 40 percent over the next decade, compared to 2008 levels.
Major companies that sell to the federal government like GE, HP, Northrup Grumman and Honeywell will also announce voluntary commitments to cut their own emissions of the heat-trapping gases blamed for global warming, the White House said.
The U.S. government is responsible for only a small portion of the world's greenhouse gas emissions, but the Obama administration is hoping that taking aggressive steps at home will increase the political pressure on other countries to do the same.
A major global climate treaty, in the works for years, is supposed to be finalized in December at a summit in Paris, but most countries have yet to announce what their national contributions to the pact will be. Earlier this month the European Union unveiled its contribution, vowing to cut greenhouse gas emissions at least 40 percent by 2030, compared to 1990.
The U.S. has yet to announce its contribution to the treaty. But in a bid to build momentum last year, Obama set a U.S. goal to cut emissions up to 28 percent by 2025 — compared to 2005 levels — in a joint announcement with China that boosted hopes that an aggressive climate treaty may come to fruition.
Obama hasn't fully explained how he'll meet that goal, but his aides have suggested that unprecedented pollution limits he's imposing on power plants will get the U.S. much of the way there.
Aiming to call attention to the government's initiative, Obama on Thursday was to take to the roof of the Energy Department's headquarters, where the president was to tour an installation of solar panels. While at the Energy Department, Obama also planned to meet with major federal suppliers to discuss the new emissions targets.