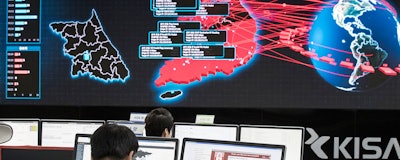 WASHINGTON (AP) — North Korea's nuclear and missile tests have stopped, but its hacking operations to gather intelligence and raise funds for the sanction-strapped government in Pyongyang may be gathering steam.
U.S. security firm FireEye raised the alarm Wednesday over a North Korean group that it says has stolen hundreds of millions of dollars by infiltrating the computer systems of banks around the world since 2014 through highly sophisticated and destructive attacks that have spanned at least 11 countries. It says the group is still operating and poses "an active global threat."
It is part of a wider pattern of malicious state-backed cyber activity that has led the Trump administration to identify North Korea — along with Russia, Iran and China — as one of the main online threats facing the United States. Last month, the Justice Department charged a North Korean hacker said to have conspired in devastating cyberattacks, including an $81 million heist of Bangladesh's central bank and the WannaCry virus that crippled parts of Britain's National Health Service.
On Tuesday, the U.S. Department of Homeland Security warned of the use of malware by Hidden Cobra, the U.S. government's byword for North Korea hackers, in fraudulent ATM cash withdrawals from banks in Asia and Africa. It said that Hidden Cobra was behind the theft of tens of millions of dollars from teller machines in the past two years. In one incident this year, cash had been simultaneously withdrawn from ATMs in 23 different countries, it said.
North Korea, which prohibits access to the world wide web for virtually all its people, has previously denied involvement in cyberattacks, and attribution for such attacks is rarely made with absolute certainty. It is typically based on technical indicators such as the Internet Protocol addresses that identify computers and characteristics of the coding used in malware, which is the software a hacker may use to damage or disable computers.
But other cybersecurity experts tell The Associated Press that they also see continued signs that North Korea's authoritarian government, which has a long track record of criminality to raise cash, is conducting malign activity online. That activity includes targeting of financial institutions and crypto-currency-related organizations, as well as spying on its adversaries, despite the easing of tensions between Pyongyang and Washington.
"The reality is they are starved for cash and are continuing to try and generate revenue, at least until sanctions are diminished," said Adam Meyers, vice president of intelligence at CrowdStrike. "At the same time, they won't abate in intelligence collection operations, as they continue to negotiate and test the international community's resolve and test what the boundaries are."
CrowdStrike says it has detected continuing North Korean cyber intrusions in the past two months, including the use of a known malware against a potentially broad set of targets in South Korea, and a new variant of malware against users of mobile devices that use a Linux-based operating system.
This activity has been taking place against the backdrop of a dramatic diplomatic shift as Kim Jong Un has opened up to the world. He has held summits with South Korean President Moon Jae-in and with President Donald Trump, who hopes to persuade Kim to relinquish the nuclear weapons that pose a potential threat to the U.S. homeland. Tensions on the divided Korean Peninsula have dropped and fears of war with the U.S. have ebbed. Trump this weekend will dispatch his top diplomat, Mike Pompeo, to Pyongyang for the fourth time this year to make progress on denuclearization.
But North Korea has yet to take concrete steps to give up its nuclear arsenal, so there's been no let-up in sanctions that have been imposed to deprive it of fuel and revenue for its weapons programs, and to block it from bulk cash transfers and accessing to the international banking system.
FireEye says APT38, the name it gives to the hacking group dedicated to bank theft, has emerged and stepped up its operations since February 2014 as the economic vise on North Korea has tightened in response to its nuclear and missile tests. Initial operations targeted financial institutions in Southeast Asia, where North Korea had experience in money laundering, but then expanded into other regions such as Latin America and Africa, and then extended to Europe and North America.
In all, FireEye says APT38 has attempted to steal $1.1 billion, and based on the data it can confirm, has gotten away with hundreds of millions in dollars. It has used malware to insert fraudulent transactions in the Society for Worldwide Interbank Financial Telecommunication or SWIFT system that is used to transfer money between banks. Its biggest heist to date was $81 million stolen from the central bank of Bangladesh in February 2016. The funds were wired to bank accounts established with fake identities in the Philippines. After the funds were withdrawn they were suspected to have been laundered in casinos.
The Foundation for Defense of Democracies, a Washington think tank, said in a report Wednesday that North Korea's cyber capabilities provide an alternative means for challenging its adversaries. While Kim's hereditary regime appears to prioritize currency generation, attacks using the SWIFT system raise concerns that North Korean hackers "may become more proficient at manipulating the data and systems that undergird the global financial system," it says.
Sandra Joyce, FireEye's head of global intelligence, said that while APT38 is a criminal operation, it leverages the skills and technology of a state-backed espionage campaign, allowing it to infiltrate multiple banks at once and figure how to extract funds. On average, it dwells in a bank's computer network for 155 days to learn about its systems before it tries to steal anything. And when it finally pounces, it uses aggressive malware to wreak havoc and cover its tracks.
"We see this as a consistent effort, before, during and after any diplomatic efforts by the United States and the international community," said Joyce, describing North Korea as being "undeterred" and urging the U.S. government to provide more specific threat information to financial institutions about APT38's modus operandi. APT stands for Advanced Persistent Threat.
The Silicon Valley-based company says it is aware of continuing, suspected APT38 operations against other banks. The most recent attack it is publicly attributing to APT38 was against of Chile's biggest commercial banks, Banco de Chile, in May this year. The bank has said a hacking operation robbed it of $10 million.
FireEye, which is staffed with a roster of former military and law-enforcement cyberexperts, conducted malware analysis for a criminal indictment by the Justice Department last month against Park Jin Hyok, the first time a hacker said to be from North Korea has faced U.S. criminal charges. He's accused of conspiring in a number of devastating cyberattacks: the Bangladesh heist and other attempts to steal more than $1 billion from financial institutions around the world; the 2014 breach of Sony Pictures Entertainment; and the WannaCry ransomware virus that in 2017 infected computers in 150 countries.