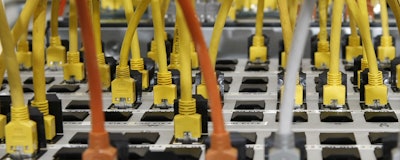 WASHINGTON (AP) — The Trump administration blacklisted two North Korean-controlled information technology companies based in China and Russia on Thursday as it pushed for progress by Kim Jong Un's government on denuclearization.
The Treasury Department announced it was designating China Silver Star, its North Korean CEO Jong Song Hwa and its Russia-based sister company, Volasys Silver Star.
Treasury Secretary Steve Mnuchin said the sanctions were intended to stop the flow of illicit revenue to North Korea from overseas IT workers hiding behind front companies and aliases. The designation blocks any property those targeted may have in the U.S. and prohibits Americans from doing business with them.
"Treasury is once again warning the IT industry, businesses, and individuals across the globe to take precautions to ensure that they are not unwittingly employing North Korean workers for technology projects by doing business with companies like the ones designated today," Mnuchin said in a statement. "The United States will continue to fully enforce and implement sanctions until we have achieved the final, fully verified denuclearization of North Korea."
North Korea sells a range of IT services and products abroad, including website and app development, security software and biometric identification software that have military and law enforcement applications, Treasury says.
The U.S. said that the companies targeted are also linked to the organizations involved in North's weapons program. China Silver Star, also known as Yanbian Silverstar Network Technology Co., is associated with the Munitions Industry Department of North Korea's ruling party, which oversees the nation's ballistic missile programs, and with a state corporation that obtains commodities and technology to support North Korean defense research and procurement.
As of mid-2018, China Silver Star had earned millions of dollars from collaborative projects with Chinese and other companies, and the Russia-based Volasys Silver Star, established in early 2017, had earned hundreds of thousands of dollars in under a year, the Treasury said. Both companies are managed by North Koreans.
Although virtually all North Koreans lack access to the internet, the U.S. says that IT is not only a source of revenue for its authoritarian government but used by the North for theft and intimidation.
Last week, U.S. federal prosecutors charged a North Korean computer programmer with devastating cyberattacks that hacked Sony Pictures Entertainment and unleashed the WannaCry ransomware virus that infected computers in 150 countries and crippled parts of the British health care system. U.S. officials believe the Sony hack was retribution for "The Interview," a comedy starring Seth Rogen and James Franco in a plot to assassinate Kim. North Korea denied involvement.
The Trump administration has kept up sanctions pressure on the North, despite the historic summit between President Donald Trump and Kim in June that dialed down nuclear tensions between the adversaries.
That meeting, the first ever between leaders of the U.S. and North Korea, has been followed by a diplomatic impasse over how to achieve the agreed-upon goal of denuclearization. Still, the White House said Monday that Trump has received a request from Kim for a second summit, and planning is in motion to make it happen.
Also Thursday, the U.S. government announced that it has approved the potential sale to South Korea of six P-8A maritime patrol aircraft for an estimated cost of $2.1 billion and 64 Patriot missiles for missile defense for an estimated $500 million. South Korea, a close U.S. ally, said in February that it would procure new patrol aircraft to cope with the emerging threat of North Korean submarine-launched missiles.