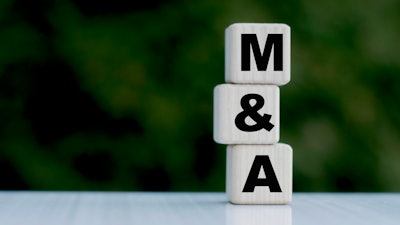 iStock
CHICAGO, Feb. 04, 2022 (GLOBE NEWSWIRE) -- Fast Radius, Inc. ("Fast Radius"), a cloud manufacturing company, today announced the successful closing of its previously announced business combination with ECP Environmental Growth Opportunities Corp. (NASDAQ: ENNV) ("ENNV"), a special purpose acquisition company. The combined company has been renamed "Fast Radius, Inc." and will be led by Fast Radius' existing management team. Fast Radius shares of common stock and public warrants are expected to begin trading on Monday, February 7, 2022, on Nasdaq under the ticker symbols "FSRD" and "FSRD.WS," respectively.
The transaction, and the various proposals giving effect thereto, were approved by the requisite vote of ENNV stockholders at a special meeting of ENNV's stockholders held on February 2, 2022. A Current Report on Form 8-K disclosing the full voting results will be filed with the Securities and Exchange Commission on February 4, 2022.
"The completion of our merger with ENNV is an extraordinary milestone for our company, our employees, and our shareholders," said Lou Rassey, Co-Founder and CEO of Fast Radius. "From day one, our purpose has been to make new things possible with our first-of-its-kind Cloud Manufacturing Platform where manufacturers can more efficiently and sustainably design, make, and move parts. All of us at Fast Radius, including a highly qualified board and management team, look forward to continuing our mission and to drive value for our shareholders."
Doug Kimmelman, Chairman of ENNV, said, "This is an incredible opportunity to participate in a publicly-listed industrial technology company with significant runway, and we are confident in the Fast Radius team's ability to execute on their differentiated and sustainable business model to drive growth and value creation."
Fast Radius management will participate in a closing bell ceremony at Nasdaq on February 16, 2022 to celebrate the public listing.
About Fast Radius, Inc.Fast Radius, Inc. is a leading cloud manufacturing and digital supply chain company. The Cloud Manufacturing Platform™ from Fast Radius is a first-of-its-kind solution that integrates design, production, and fulfillment operations through a common digital infrastructure to make manufacturing easier, more accessible, and more sustainable. Founded in 2017, Fast Radius, Inc. is headquartered in Chicago with offices in Atlanta, Louisville, and Singapore and microfactories in Chicago and at the UPS Worldport facility in Louisville, KY.