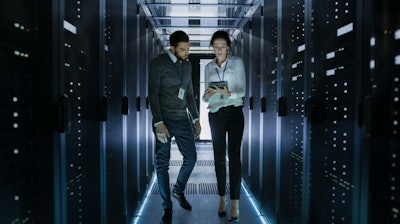 The Edge and the Cloud are the hot terms in data processing today, particularly for industries that are continuing to explore the benefits of the Industrial Internet of Things. These devices produce a huge amount of data about processes – temperatures, pressures and the levels of liquids in a vessel, to name but a few. In the past, a lot of this data was left untended and un-utilized, with companies lacking the ability to easily analyze it or share it.
With the arrival of Edge computing and Cloud technologies, all this has changed. Bringing the combined benefits of greatly enhanced computing power and analytical capabilities, these technologies promise to allow users to fully unlock the possibilities of Industry 4.0. For industrial companies, the challenge now is to find the best way of using these technologies, either individually, or together, to facilitate the full exploitation and sharing of their device and systems data.
The essential difference is that the Edge is 'on premise' – it puts computing close to industrial systems. By contrast, the Cloud is served by data processing facilities based at a remote data center and provides essentially infinite computing. Which one to choose is highly dependent on a user's applications and their environment, as well as their requirements around key issues such as security.
Close to The Edge or Up in The Cloud?
When it comes to the Edge, the fact that the computing power is placed near the very devices it serves creates one major obvious benefit – it reduces latency, the time needed for data to travel from source to destination, meaning enhanced speeds are achieved.
Security is also an increasingly important industry focus. Many potential users will be concerned that Edge computing presents an easy way for hackers to gain entry to a plant's network. They may feel that the 'attack surface' is just too great. Yet, the other side of the coin is that the distributed nature of Edge computing means it is easier to seal off an affected device. Another advantage is that the greater amount of data being processed locally means that less is being transmitted to a central server, further cutting the risk.
There are several precautions that can be taken to ensure the integrity of Edge computing. These include ensuring that each connected device has built-in cyber security, making sure that all enclosures are physically secure and using remote security monitoring to log access attempts and intruders. Edge computing also allows far more scalability as the business grows and production plants expand. With smaller, more capable computing devices, installations can easily be expanded to account for greater volumes of data and applications.
There are several ways to ensure the process of adopting Edge computing goes smoothly.
The first is to choose an Edge computing vendor that works with a wide variety of both global and local partners. Such a vendor will work to globally recognized standards, ensuring that any products and solutions supplied will work together seamlessly.
Similarly, potential Edge users must look for solutions with standardized, pre-integrated and pre-validated architectures. This will ensure that the planning and deployment of the Edge project is both rapid and cost-effective.
When the time comes to deploying the Edge solution, an Edge configurator tool can be used. This can help firm up the design by incorporating such considerations as physical infrastructure, management, services, and security measures, allowing quick configuration and deployment.
By contrast, Cloud computing is where all data from the IIoT devices is gathered and processed in a centralized location. Any devices that need access to this data, or need to use any applications that use it, must first connect to the Cloud. The Cloud offers access to computer system resources on-demand, in particular data storage and computing power. Since everything is centralized, the Cloud is more straightforward to secure and control than Edge computing, while still allowing for reliable remote access.
More information on Cloud Computing will follow in part two of this series.
Narasimham Parimi, is the Digital Products Portfolio Manager for ABB Process Control Products.