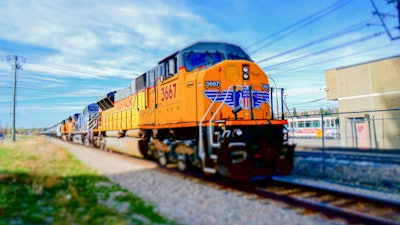 iStock
National Transportation Safety Board Chair Jennifer Homendy yesterday commended the Federal Railroad Administration for moving forward with a proposed rule to ensure freight railroad employees transporting hazardous materials have the necessary protective equipment to prevent inhaling poisonous toxins in an accident.
NTSB recommended providing emergency escape breathing apparatuses for crew members on freight trains carrying hazardous materials following a 2005 rail accident in which the train engineer and eight other people died from chlorine gas inhalation.
NTSB issued the recommendation to the FRA as a result of its investigation​ into the Jan. 6, 2005, collision of a northbound Norfolk Southern Railway Company freight train with an unoccupied parked Norfolk Southern freight train in Graniteville, South Carolina.
Congress mandated the FRA require railroads to provide crews with emergency breathing equipment in 2008, and the agency issued a notice of proposed rulemaking in 2010. But no rule was ever issued. In 2017, the NTSB closed the recommendation, categorizing FRA's lack of action as an "unacceptable response."
In the South Carolina derailment, one of three chlorine tank cars breached, releasing deadly chlorine gas. The train engineer was killed, along with eight others who worked or lived near the collision. Hundreds of others were taken to local hospitals, including firefighters and sheriff's department officers. More than 5,000 people within a mile of the derailment were evacuated for several day.