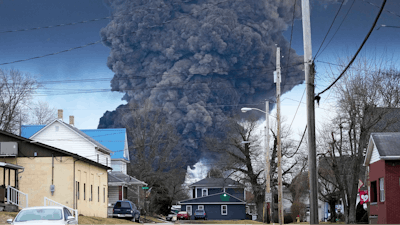 AP Photo/Gene J. Puskar, File
The federal government filed a lawsuit against railroad Norfolk Southern over environmental damage caused by a train derailment on the Ohio-Pennsylvania border that spilled hazardous chemicals into nearby creeks and rivers.
The U.S. Department of Justice said it's seeking to hold the company accountable for "unlawfully polluting the nation's waterways and to ensure it pays the full cost of the environmental cleanup," in the lawsuit filed Thursday.
The derailment in early February led to the evacuation of half of the 5,000 residents of East Palestine when responders intentionally burned toxic chemicals in some of the derailed cars to prevent an uncontrolled explosion.
Chemicals from the derailed cars and firefighting foam seeped into creeks and rivers near the village, with some eventually ending up in the Ohio River.
Government officials say tests haven't found dangerous levels of chemicals in the air or water in the area, but many residents remain concerned their long-term health.
Norfolk Southern CEO Alan Shaw has repeatedly apologized for the impact the derailment and the company has pledged to pay for the cleanup. The railroad has promised more than $20 million to help the Ohio community recover while also announcing several voluntary safety upgrades.
Ohio filed a lawsuit against Norfolk Southern just over two week ago to make sure it pays for the cleanup and environmental damage and pay for groundwater and soil monitoring in the years ahead.