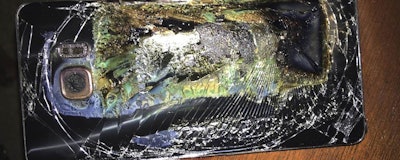 A recent analysis blamed faulty phone design for the battery problems that plagued Samsung's since recalled Galaxy Note 7.

The Korean electronics giant pulled its highly anticipated smartphone off shelves in September due to what executives called a "tiny error" in the manufacturing process that led to flaws in the battery that could result in fires or explosions.

Instrumental, a Silicon Valley engineering consulting firm, acquired and tore apart a Galaxy Note 7 and instead suggested that the design itself was at fault — and that Samsung engineers were likely aware of potential issues.

"The design and validation process for a new product is challenging for everyone," Instrumental CEO Anna Shedletsky wrote on the company's website. "In this case, Samsung took a deliberate step towards danger, and their existing test infrastructure and design validation process failed them. They shipped a dangerous product. "
The Instrumental examination found that the phone's design can compress its battery during routine use. The battery is comprised of a positive lithium cobalt oxide layer, a negative graphite layer and two electrolyte-soaked polymer layers that separate them — and thus prevent the device from overheating.

Samsung suggested that the separator layers were possibly made too thin due to "aggressive manufacturing," and Shedletsky wrote that normal mechanical swells and pressure from external factors — such as placement in a pocket — could further compress the device.

She added that even without the recall, mechanical swells would have slowly pushed the phones apart in subsequent years.

Instrumental analysts also noted that Samsung placed the battery within a relatively costly protective layer — a signal that it was aware of risks related to the battery — and said that the final versions of the battery may not have undergone rigorous testing due to late changes in the manufacturing process.

"Looking at the design, Samsung engineers were clearly trying to balance the risk of a super-aggressive manufacturing process to maximize capacity, while attempting to protect it internally," Shedletsky wrote.

Samsung officials said in late October that it was still conducting an investigation into problems with the Galaxy Note 7.