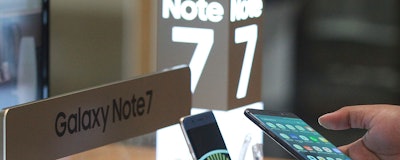 As a reaction to more reports of battery fires involving replaced, supposedly safe Galaxy Note 7 phones, Samsung has decided to cut its losses and officially pull the plug on what was supposed to be its new flagship device. Unveiled in early August and received positively by critics and consumers alike, things quickly turned sour for the world's largest smartphone vendor. Reports of overheating batteries prompted Samsung to issue a global recall, but apparently Samsung wasn't able to resolve the issue which ultimately led to today's decision.

The whole fiasco could end up costing the South Korean electronics behemoth nearly $17 billion in lost sales according to Credit Suisse analysts, and that is not counting the damages to Samsung's reputation which will almost definitely spill over to the company's other smartphone models as well. The following chart recaps key events of the Note 7 debacle, a chapter that Samsung will be eager to close as quickly as possible.
This chart sums up how Samsung ended up scrapping the Galaxy Note 7 smartphone.