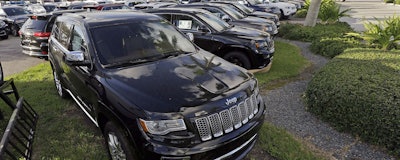 A Fiat Chrysler recall is in the news again after one of the affected vehicles was involved in the death of actor Anton Yelchin.

Yelchin, 27, was killed early Sunday when his 2015 Jeep Grand Cherokee rolled down his driveway and pinned him against a mailbox.

The SUV was among the nearly 812,000 vehicles recalled by Fiat Chrysler in April due to the increased potential for rollaway accidents.

The recalled vehicles featured "E-shift" systems that electronically shift between gears and require the driver to push a lever three times to put the car in "park."

Although the vehicles chime and show a warning light if the driver's side door opens while not in "park," the engine remains on and drivers may inadvertently exit their car while it's in gear.

Authorities said that it was too early to determine a cause of the accident, but the National Highway Traffic Safety Administration said that Yelchin's death is the first "we're aware of that may be related to this safety defect and vehicle recall."

It's unclear whether Yelchin was aware of the problem.

FCA said in April that it knew of 41 injuries potentially related to the issue. The automaker said at the time that it planned to bolster the warning system on recalled vehicles and adjust them to ensure that they don't move if the driver exits.
In addition to the 2014 and 2015 Grand Cherokee, the recall included the 2012-2014 Dodge Charger and Chrysler 300 sedans.