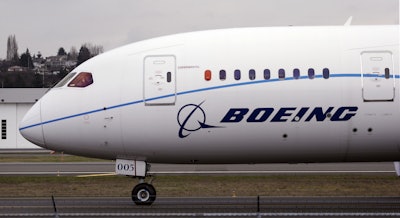 WICHITA, Kan. (AP) — A federal appeals court has sided with Boeing and one of its suppliers in the whistleblower lawsuit brought by three ex-workers at the aircraft manufacturer's former plant in Wichita.
The 10th U.S. Circuit Court of Appeals agreed on Monday with a federal judge's decision that the former workers failed to show Boeing defrauded the U.S. government in a $1.6 billion contract.
The three-judge appellate panel said it found no evidence Boeing knowingly submitted a false claim to the government. It upheld the 2014 summary judgment in favor of Boeing and California-based supplier Ducommun Inc., rejecting claims brought by former employees Taylor Smith, Jeannine Prewitt and James Ailes.
Their 2005 lawsuit alleged that Boeing defrauded the government in a contract for two dozen 737 Next Generation aircraft by using "bogus parts."