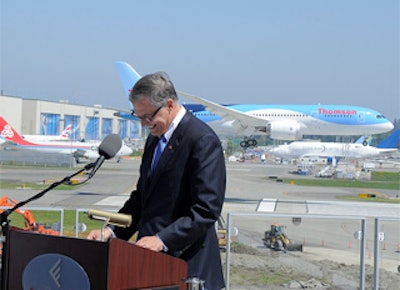 OLYMPIA, Wash. (AP) — Washington state and local officials are looking to expedite their permitting work in order to woo Boeing as the company mulls where to build its 777X jetliner.
Gov. Jay Inslee said Thursday he wants to utilize a never-used law that would lead to more state and local coordination to help streamline the permitting process. To do that, officials in Everett and Snohomish County have requested that an expansion of Boeing's plant in Everett would be deemed a "Project of Statewide Significance."
The Legislature created the designation in 1997, but the plan has never been used. Inslee has directed the Washington state Department of Commerce to move quickly to consider whether the project could get that label.
"I can't imagine a project that has more significance to the entire State of Washington than the facilities necessary to design and fabricate the 777X and its component parts," Inslee said in a statement. "We are doing all we can to ensure that we are ready to accommodate Boeing's needs as it moves forward with this new airplane program."
Everett Mayor Ray Stephanson believes Boeing could assemble the 777X within its existing facility there, according to the Everett Herald. However, the company may need a new facility to fabricate the plane's composite wings.
Stephanson is leading a task force that is seeking ways to streamline the permitting process. Officials are working to court Boeing in order to preserve the jobs and economic impact that would come with having the new plane built in the state.
Inslee had said that another strategy to entice Boeing was improvements to the state's transportation corridors. However, a large transportation funding package failed to get a vote in the state Senate this year.