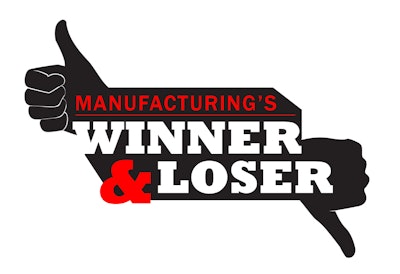 This week's winner has voluntarily decided to transition to a safer form of packaging in response to customer concerns about chemicals; this week's loser is facing a hefty fine after it agreed to plead guilty to tampering with air pollution monitoring equipment.
Winner
Cambell Soup announced this week its plan to remove Bisphenol A (BPA) linings from its cans by 2017.
The Food and Drug Administration has deemed BPA to be safe at current levels used in food packing, but the chemical has been linked to various health problems — including cancer — and customers have expressed concern.
The company started researching other options in 2012 because of this concern. Though Campbell's still believes BPA is "one of the safest packaging options in the world," it made the decision to move to acrylic and polyester alternatives to ensure safety and quality.
Loser
The operators of the Berkshire Power Plant in Massachusetts will pay an $8.5 million fine after pleading guilty to tampering with air pollution monitoring equipment and submitting false information to regulators.
Federal authorities said the plant was in violation of the federal Clean Air Act because employees manipulated the monitoring system to conceal the excessive pollutants emitted by the plant.
The plant agreed to plead guilty to the charges to avoid a shutdown. The plant's owner, Berkshire Power Co., and manager, Power Plant Management Services, are paying the fines in order to end investigations.