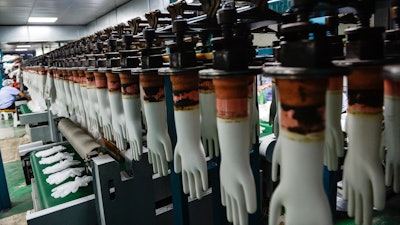 iStock
In addition to the humanitarian and societal havoc COVID-19 has played, the coronavirus pandemic is disrupting supply chains across the globe. Manufacturers have ramped up production and worked around the clock to quickly make medical devices and equipment to assist in the crisis. If even one of the many materials, parts or components supplied for use in a medical device or critical lifesaving equipment drops in quality, it can have devastating consequences.
Supplier quality is always a serious factor in the medical technology supply chain. But as manufacturers scramble to develop lifesaving products during large-scale supply chain disruptions like the novel coronavirus (COVID-19) pandemic, and as suppliers feel pressure to consistently provide the parts that go into those products, quality is more important than ever. Considering the scale and speed of the impact, manufacturers must ensure their supply chain partners maintain high quality standards while quickly delivering a greater number of lifesaving products.
Supplier Quality Problems to Watch For
Manufacturers should watch for quality degradation, late deliveries and slow communication.
If a supplier with a history of compliant shipments begins delivering shipments with rising scrap rates or nonconforming materials, components or parts, that is a red flag. Quality-related problems to watch for include a rise in failing parts per lot or an increase in rejecting products that don't meet specification. Errors relating to specifications are among the most common challenges in managing supplier quality. For example, critical dimensions are missing, tolerances are off or specifications are outdated.
Nonconforming components can create major health hazards, and uncontrolled supplier changes can result in out-of-spec materials. As supply demands increase and processes accelerate, it is critical that a supplier's materials, parts or processes – and substitutions or changes to those materials, parts or processes – meet the manufacturer's requirements.
Delays in shipments and responses to inquiries are also warning signs to watch for. An influx of late ship dates often indicates a failing manufacturing process may be affecting the supplier's quality. And when a normally responsive supplier is slow to respond about quality issues or ship dates, it can mean the supplier is avoiding the customer. If the quality problem is recurring and the supplier is failing to identify, correct and communicate the issue to the customer, then products get delayed and consumer safety gets threatened.
Resolving Supplier Quality Problems
When manufacturer-supplier relationships aren't built on communication, collaboration and transparency, risks to quality grow greater in likelihood and consequence – even in the best of times. With the added layer of complexity and urgency in the supply chain due to large-scale disruptions like a global pandemic, manufacturers must forge stronger partnerships with their suppliers.
Direct, honest communication between a manufacturer and supplier helps deliver quick changes to the product and needs. As part of establishing two-way communication, it is important to identify responsibilities and define expectations for each party. This should help build accountability, accelerate response times and streamline the entire sourcing process. The supplier scorecard is a great form of communication, as it sets up a structured measurement or cadence of collaboration; the supplier should always know their score and how they're trending.
Collaboration, too, is important between manufacturers and suppliers at any time, but is especially so during urgent, large-scale supply chain disruption. Actively including suppliers in the quality process – asking for their input, questions and goals – can motivate them greatly. Active, ongoing collaboration empowers the supplier to improve their processes and materials or parts, with the dual benefit of improving their efficiency and lowering their own costs.
Finally, the more information the manufacturer and supplier have about each other's process, the better both can be and the more likely a win-win relationship is created. That is why maximum transparency is crucial. As manufacturers continuously monitor the risks associated with suppliers, it can help to develop a process or system that provides real-time access to supplier performance data and enables suppliers to quickly gain the information they need from the manufacturer.
In today's tightly interconnected supply chain, disruptions such as a global pandemic can exacerbate common quality challenges. When one of the many materials, parts or components supplied for use in a medical device or critical lifesaving equipment drops in quality, it can have devastating consequences.
Manufacturers who establish communication, collaboration and transparency with their critical supply chain partners are likely to gain greater visibility into the source of materials, facilitate better quality processes, receive higher-quality materials and produce high-quality products.
Alex Butler is manager of medical device solutions at MasterControl, a provider of cloud-based quality and compliance software for life sciences industries.