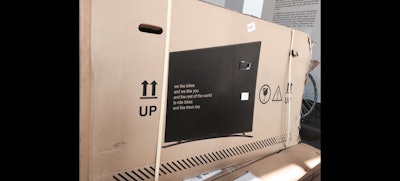 VanMoof, an innovative bicycle manufacturer based in Amsterdam, set an ambitious goal of selling 90 percent of its bikes via the internet by 2020.
In order to meet that goal, the company offers free shipping anywhere in the world — and uses a bit of deception help make sure that those packages arrive unharmed.
Bex Radford, the company's creative director, writes in a blog post that it partnered with many different parcel carriers — from industry giants to startups — only to find that "too many of our bikes arrived looking like they'd been through a metal-munching combine harvester."
Earlier this month, The Wall Street Journal sportswriter Jason Gay laid the company's scheme bare on Twitter for the whole world to see.
The large cardboard box sent from VanMoof featured a picture not of a bicycle, but of a flat-screen TV — a fragile, expensive piece of equipment that's evidently much more likely to make package handlers proceed with caution.
Radford acknowledged that the company was "hoping to keep this small tweak quiet," but wrote that since the change took effect earlier this year, "shipping damage to our bikes dropped by 70-80 percent."