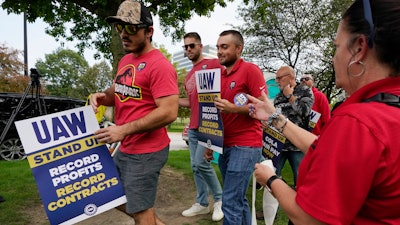 AP Photo/Carlos Osorio
The nation's biggest automakers – and car buyers everywhere -- will learn Friday whether the United Auto Workers union will escalate its strike over a demand for higher wages, a shorter work week and other benefits.
UAW President Shawn Fain is expected to announce whether the union will expand a weeklong strike that has so far been limited to three plants – one each at Ford, General Motors and Stellantis.
Fain said earlier this week he would call on workers at more plants to strike unless there was significant progress in contract negotiations with the carmakers. Bargaining continued Thursday, although neither side reported any breakthroughs, and they remained far apart on wage increases.
The strike so far involves fewer than 13,000 of the union's 146,000 members. The companies have laid off a few thousand more, saying some factories are running short on parts because of the strike.
Still, the impact is not yet being felt on car lots around the country – it will probably take a few weeks before the strike causes a significant shortage of new vehicles, according to analysts. Prices could rise even sooner, however, if the prospect of a prolonged strike triggers panic buying.
The union is seeking pay raises of 36% over four years, an end to lower pay scales for new workers, and most boldly, a 32-hour work week for 40 hours of pay. The car companies say they can't afford the union's demands despite huge profits because they need to invest in the transformation to electric vehicles.
Friday's decision is a crucial one for Fain, who won a close election in March to unseat the previous UAW president. He has followed an unusual strategy of negotiating simultaneously with all three of Detroit's big carmakers.
Workers went on strike a week ago at three assembly plants — a Ford factory near Detroit, a GM plant outside St. Louis, and a Jeep plant owned by Stellantis in Toledo, Ohio.
In contrast, Unifor, which represents Canadian auto workers, chose a more traditional approach: It picked a target company last month, Ford, and announced a tentative agreement this week, just hours before a strike deadline. If the deal is ratified, Unifor expects that GM and Stellantis will agree to similar contracts for Canadian workers.
Tensions were high in Detroit leading up to Fain's scheduled announcement.
The Detroit News reported Thursday that a spokesman for Fain wrote on a private group chat on X, formerly Twitter, that union negotiators aimed to inflict "recurring reputations damage and operational chaos" on the carmakers, and "if we can keep them wounded for months they don't know what to do."
Ford and GM seized on the messages as a sign of bad faith by the UAW.
"It's now clear that the UAW leadership has always intended to cause months-long disruption, regardless of the harm it causes to its members and their communities," GM said in a statement.
Ford spokesman Mark Truby called the messages "disappointing, to say the least, given what is at stake for our employees, the companies and this region."
The UAW spokesman, Jonah Furman, did not confirm writing the messages, which were linked to the same picture as his X account, and called them "private messages" that "you shouldn't have," the newspaper reported.