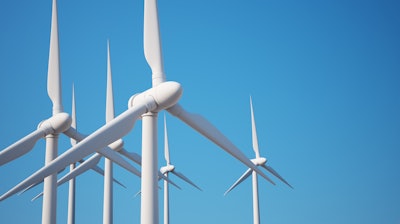 iStock
The U.S. Department of Energy announced $72 million for three sets of projects that will innovate manufacturing processes for wind and water technologies and accelerate the equitable and sustainable deployment of offshore and land-based wind energy.
This funding includes $27 million from the Bipartisan Infrastructure Law for 15 projects to support research, development and community engagement to accelerate the equitable and sustainable deployment of offshore and land-based wind energy; $45 million will go to 14 projects that will both make domestic manufacturing for these technologies quicker and less expensive.
Together, these investments will streamline the processes to create the tools that will produce wind and hydropower.
The demand for enormous wind and water turbine pieces, such as hubs and bedplates, are estimated to increase at least fivefold in the next decade to meet America's clean energy goals. This funding will help manufacturers make the equipment to meet what the moment requires.
Wind energy is the largest source of renewable power in the United States, accounting for more than 10% of total domestic electricity generation. To achieve a fully decarbonized power sector by 2035, the pace of wind energy deployment must increase, from an average of 7 gigawatts (GW) per year today to between 70 and 145 GW per year by the end of the decade.
High-Voltage Direct Current for Offshore Wind Transmission
4 projects, $8.5 million
Advanced technology is needed to transmit large amounts of electricity from offshore wind over long distances. Projects selected under this topic will support standards for high-voltage direct current (HVDC) transmission for offshore wind, develop and validate innovative controls to ensure reliability and compatibility with alternating current and direct current, as well as identify and address gaps in education and workforce training.
DNV Energy USA Inc.

, Dallas, Texas ($2 million)

GE Research, Niskayuna, New York ($3 million)
Iowa State University, Ames, Iowa ($700,000)
Oak Ridge National Laboratory, Oak Ridge, Tennessee ($2.8 million)
Advancing Deployment of Distributed Wind
1 project, $4,500,000
Distributed wind energy — wind that provides power for nearby homes, farms, schools and businesses — can help communities transition to low-carbon energy. However, not all municipalities have zoning and permitting processes for distributed wind and others have burdensome requirements that discourage development. The project selected under this topic will improve permitting processes to make distributed wind more accessible to communities where it can be cost-effectively and equitably deployed.
International City County Management Association

, Washington, D.C. ($4.5 million)
Offshore Wind Energy Social Science Research
5 projects, $6.5 million
Expanding offshore wind deployment requires it is done in a just, sustainable way that protects habitats and species, while engaging communities, tribal nations and ocean-users. Projects selected under this topic area will help characterize economic and other impacts of offshore wind development on local communities and build capacity for communities to better participate in and benefit from offshore wind development.
Gulf of Maine Research Institute

, Portland, Maine ($500,000)

Oregon State University, Corvallis, Oregon ($2.5 million)
Sandia National Laboratories, Albuquerque, New Mexico ($500,000)
University of Rhode Island, Kingston, Rhode Island ($2.5 million)
Yurok Tribe, Klamath, California ($500,000)
Bat Deterrent Technology Development
5 projects, $7.5 million
It is vital that wind energy is appropriately and responsibly sited, which includes the protection of wildlife and their habitats. Selected projects under this topic will advance bat deterrent technologies by supporting bat behavioral research, technology development, and field testing.
Bat Conservation International

, Austin, Texas ($2.5 million)

Boise State University, Boise, Idaho ($1 million)
Electric Power Research Institute Inc., Palo Alto, California ($2.3 million)
Iowa State University, Ames, Iowa ($750,000)
National Renewable Energy Laboratory, Golden, Colorado ($1 million)
Near Net Shape Manufacturing
1 project, $14,900,000
This project will innovate domestic production of large metallic near net shape components; near net shape is a manufacturing practice for making components that closely resemble what the product will be, reducing production cost and completion time. This project will focus on the manufacturing practices of large-scale machinery that makes enormous hydropower equipment using 3D printing, potentially reducing the production cost by 20% and lead time by four months.
GE Research

, Niskayuna, New York ($14,900,000)
Large Wind Blade Additive Manufacturing
4 projects, $7,996,328
Focused on the integration of additive manufacturing techniques specific to the production of large wind blades, enhancing efficiency and adaptability in the blade creation process.
Collaborative Composite Solutions

, Knoxville, Tennessee ($2 million)

Oak Ridge National Laboratory, Oak Ridge, Tennessee ($2 million)
Purdue University, West Lafayette, Indiana ($1,999,578)
Virginia Polytechnic Institute and State University, Blacksburg, Virginia ($1,996,750)
Additive Manufacturing of Wind Turbine Components
3 projects, $5,999,845
Concentrated on employing advanced additive manufacturing approaches to produce critical components for wind turbines, streamlining production and allowing for innovative design adaptions.
GE Research

, Niskayuna, New York ($1,999,845)

Orbital Composites Inc., San Jose, California ($2 million)
RCAM Technologies Inc., Boulder, Colorado ($2 million)
Advanced Manufacturing, Materials, and Sustainability
6 projects, $15,891,793
Initiatives centered around state-of-the-art manufacturing processes, materials research, and sustainable practices tailored for the development and production of large wind blades. Key areas of interest include Automation, Digitalization, Sustainability, and Modular Blade Construction/Joining.
GE Research, Niskayuna, New York ($2,999,995)
University of Delaware, Newark, Delaware ($2,970,353)
University of Massachusetts Lowell, Lowell, Massachusetts ($3 million)
University of North Dakota, Grand Forks, North Dakota ($3 million)
The University of Texas at Dallas, Richardson, Texas ($2,721,445)
WEI7 LLC, Onalaska, Texas ($1.2 million)