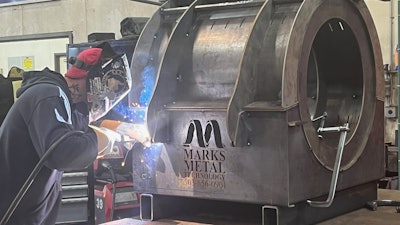 Environmental Containment Corporation
Environmental Containment Corporation (ECC), a provider serving the stormwater containment market, announced the acquisition of Marks Metal Technology, a metal fabricator based in Clackamas, Oregon.
Marks Metals was established in 1946 by John Marks in a barn on his family's farm. Renamed Marks Metal Technology (MMT) in 1997, the family-owned company has grown to be one of the industry leaders in metal fabrication, processing and precast concrete forming.
ECC, which announced its formation in October 2022 as a collaboration between Superior Concrete and National Precast, will continue MMT's tradition of technical excellence, maintaining the staff and operations in the company's 49,000 square foot facility in the heart of the Portland, Oregon market.
ECC offers a solution for stormwater containment, with cast-in-place detention vaults, precast ponds and precast vaults. Their Hybrid Vault comprehensive solution also includes complete, permit-ready sealed structural drawings and calculations, manufacturing, delivery and final site installation.