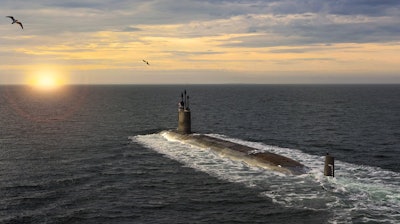 General Dynamics
General Dynamics Electric Boat, a business unit of General Dynamics, has been awarded a $1.076 billion contract modification from the U.S. Navy to provide long-lead-time material and advanced construction for Virginia-class fast-attack submarines.
Electric Boat is presently under contract for construction of submarines in Block V of the class. The $1,075,896,000 in advance procurement funds from this contract modification will enable Electric Boat to purchase materials and major components for hulls 812 and 813.
According to Kevin Graney, president of General Dynamics Electric Boat, the contract modification will help General Dynamics' suppliers invest in the capacity and materials needed to increase production volume.
Virginia-class submarines are designed from the keel up for the full range of 21st-century mission requirements, including anti-submarine and surface ship warfare and special operations support.
Electric Boat constructs Virginia-class submarines for the U.S. Navy in a teaming agreement with Newport News Shipbuilding, a division of HII.
Virginia-class submarines aim to reduce costs without decreasing capabilities through a multi-year procurement strategy, continuous improvements in construction practices and cost-reduction design changes.
Headquartered in Groton, Connecticut, General Dynamics Electric Boat employs more than 20,500 people.