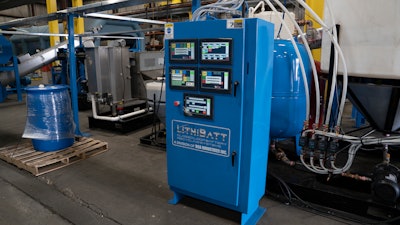 BCA Industries
What the rapidly growing, extremely challenging lithium ion (Li-ion) and lithium iron phosphate (LiFePO4) battery recycling markets need today are comprehensive solutions – and that is just what innovators are delivering.
As the use of these lightweight, powerful batteries have proliferated in everything from electronics to electric vehicles (EVs), the challenge of safely, efficiently and profitably recycling them has only grown. Now, the limited global supply of virgin materials for the batteries is further increasing the urgency to find cost-effective, industrial scale, recycling solutions.
Unfortunately, there are significant challenges to recycling Li-ion and LiFePO4 batteries. These range from dealing with different battery chemistries, materials and sizes, to addressing thermal runaway (a dangerous escalating cycle in which released heat can quickly spread to other batteries causing fires, dangerous volatile organic compound (VOC) release and even explosions).
Another hurdle is the difficulty and labor-intensive activity of disassembling and shredding EV battery packs, which are now being designed to serve as structural elements for the vehicle.
Currently, most systems are custom solutions cobbled together from existing recycling technologies used for other types of materials, and this adds to the cost and confusion going forward. Because these systems are considered closely held trade secrets, little information is shared with others as to the design features or effectiveness in resolving the challenges associated with Li-ion batteries. This lack of transparency has slowed the adoption of industry best practices.
Today, however, complete turnkey systems are beginning to enter the market that are specifically designed for Li-ion as well as LiFePO4 battery recycling that offer a variety of processing outcomes.
This includes options for progressively smaller sizes of material shredding, as well as additional processing steps to generate higher value, battery-grade precursor cathode active material (pCAM) and "black mass," which contains high amounts of graphite, lithium, manganese, cobalt and nickel metals. These systems are designed specifically to address the extraordinary safety requirements and proper VOC extraction needed.
"The industry is moving to proven, non-proprietary systems so manufacturers and recycling centers can determine the feasibility of such systems and also evaluate the potential reuse or resale value of material that is more thoroughly processed," said John Neuens, industrial consultant for Milwaukee, WI-based LithiBatt, a new division of BCA Industries - an OEM that provides turnkey, closed loop, recycling systems for Li-ion, LiFePO4, nickel metal hydride, zinc-bromine and other types of batteries.
Proven Turnkey Li-on System Applications
In the global marketplace, turnkey Li-ion battery recycling systems are already being successfully and profitably used at some of the world's largest battery recyclers as well as EV battery and vehicle manufacturers (see a virtual tour at Lithibatt Promo Video - YouTube).
According to Neuens, a turnkey Li-ion battery recycling system is a combination of several separate but complementary processes. The primary system shreds the batteries in inert atmosphere and water, and secondary systems further reduce the material to smaller, more separatable sizes.
Additional processing using proprietary chemical injections and drying methods removes valuable battery cell "black mass" from the shredded material before it goes through the entire processing system.
"With primary, secondary and downstream equipment, Li-ion batteries of all sizes and chemistries can be quickly and profitably reduced into valuable, reusable, or saleable materials without disassembly. This type of flexible system can recycle the tons of Li-ion material per hour a customer requires to whatever sellable state they require," said Neuens.
LithiBatt's system includes some unique, proprietary design features based on the company's decades of experience recycling various types of products. Although there is an option to run the system as a "dry" process, there is increased risk that batteries will go into thermal runaway unless disassembly is done – a factor that normally limits the size and capacity of the recycling chamber. A wet process, on the other hand, can be used to deter thermal runaway since the recyclable Li-ion battery material does not readily absorb water.
"A wet processing system offers an enormous advantage in material separation and reduces the potential for thermal runaway during recycling. With more capacity, recyclers do not have to disassemble large EV packs first. It is extraordinarily labor-intensive to dissemble these packs, and recyclers are looking for a full pack, automated recycling solution. Disassembling EV packs can also be dangerous, with the potential for short circuits and energy release," said Neuens.
After primary shredding, LithiBatt's patented Triplus knife technology process further reduces the material size to 3/8" inch without using screens.
"The Triplus knife technology is uniquely suited to battery recycling because it reduces the size in one pass without screening, or the need for a series of shredders to further reduce size. This is particularly important when running a wet system, since screens are susceptible to blinding," said Neuens.
LithiBatt is also collaborating with other industry leaders to integrate complementary recycling technologies to maximize the value of recoverable materials and reduce operational costs. The company is currently installing several systems in Germany and the U.S. for the largest battery recycling company in the world. Further to that, LithiBatt was chosen by and is now building systems for the largest EV manufacturer in the world.
Additionally, LithiBatt is partnering with Green Li-ion, a lithium-ion battery recycling technology company based in the U.S., Europe, Australia and Singapore. Green Li-ion has developed a novel technology that processes all the valuable elements present in black mass materials of all used lithium batteries. The technology and process enable the recycling of all metals to directly re-manufacture battery-grade cathode material ready for re-use in new batteries.
Green Li-ion's technology installation will be among the first in the U.S. to produce battery-grade precursor cathode active material (pCAM), graphite and lithium carbonate from spent lithium-ion batteries. This technology lowers the cost of producing new batteries and reduces emissions related to battery raw materials logistics.
Green Li-ion developed and prototyped its technology in Singapore. The Green Li-ion units, manufactured in Houston, Texas, are the size of a small house and can be shipped on flat-bed trucks in modules.
Once installed, they can process 4-6 metric tons of end-of-life batteries per day (up to 20 EV batteries or 70,000 iPhones) to instantly produce precursor cathode active material at battery grade, which satisfies U.S. domestic supply requirements included in the U.S. Inflation Reduction Act (IRA) legislation.
The first working, commercial operation is slated to begin production in Q3 2023 at a plant operated in Oklahoma.
Profitably Meeting Global Demand
Today, the technology exists to rapidly ramp up Li-ion battery recycling to meet global demand. However, a greater understanding of the technology as well as its costs and benefits is necessary before manufacturers and recyclers are willing to make a capital investment.
"One of the factors preventing greater Li-ion battery recycling is a desire to keep the solutions proprietary. But recyclers do not want a piecemeal system – they want a turnkey solution that increases production and reduces costs," said Neuens.
To accelerate Li-ion battery recycling market growth, LithiBatt has applied for a U.S. Department of Energy (DOE) grant to build a demonstration facility that allows manufacturers and recyclers to see the process in action, obtain test data and fully understand what they are purchasing. The recycling technology is already being successfully and profitably used at a facility in Germany and more are on the way throughout Europe.
Within the grant request, the company would plan to set up a full demonstration facility in North America so that the Li-ion battery recycling system technology can be more widely shared.
"We plan to set up a demonstration plant where people can run their material, gather data on the recycling system, and then purchase it either in whole or part – knowing that it will be fully functional for them," said Neuens.
The demonstration project is intended to accelerate recycling technology adoption, according to Neuens.
"If there is no return on investment, no one is going to implement it. So, the demo plant will allow manufacturers and recyclers to gather real-time, recycling data at volume before deciding to buy primary, secondary, or downstream equipment to cost-effectively process all the way down to pCAM," he said.
Neuens points out that processing further to recover the black mass generates the greatest value for reuse or sale. He explains that in traditional Li-ion battery recycling, there are usually only trace amounts of metals like lithium, copper and aluminum. Since black mass consists of electrode coatings like metal oxides and carbon, however, it contains valuable elements like graphite, manganese, cobalt, nickel and lithium.
"Most industry professionals have come to realize that the economics of recycling lie not just in metal separation, but in recovering black mass," said Neuens. "Black mass after filtration to pCAM can go right back into new battery production or into new products and applications, which is why it has value. Almost all the value is in the lithium and the black mass."
Neuens expects that the growing market for Li-ion batteries, along with the increasing value for recycled materials, will spur the development of regional facilities.
"In the near future, we believe there will be regional Li-ion and LiFePO4 battery recycling facilities in every U.S. state, Canadian province, and every country in Europe," concluded Neuens.
bca-industries.com