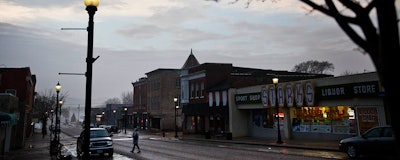 NEW YORK (AP) — Rising interest rates typically rank low on small-business owners' list of problems, but some warning signs are starting to emerge.
Higher rates are already starting to bite into some businesses' bottom lines, and the effect is likely to get stronger as the Federal Reserve continues to raise rates amid the strong economy. The Fed made its latest move last week, raising its benchmark rate by a quarter of a percentage point, and economists expect one more increase in December and at least a couple more next year.
"Most small businesses are saying, 'Rising rates won't affect my business,'" said Nalanda Matia, senior director in the econometrics practice of Dun & Bradstreet, which tracks data on small businesses. "But I think it's going to affect everybody."
She points to higher rates of credit-card delinquencies for small businesses as some of the first examples. Last month, the delinquency rate was 2.7 percent, up from 2.3 percent in the summer of 2017. Rising interest rates didn't start the trend, which began in the middle of 2015, before the Federal Reserve began pulling rates off their record low near zero. But rising rates have helped to accelerate the trend recently, Matia said.
Small businesses are also using more of the available credit on their cards, up to 24.5 percent from 22.8 percent a year earlier. That could put them on the line for higher interest payments as rates on cards climb. The average interest rate on all credit cards was 14.14 percent in the second quarter of 2018, its highest level in eight years.
Of course, even though they're rising, interest rates are still low relative to history. That's one reason small businesses rank other challenges much higher on their lists, such as the impact of the new tax law. Only 2 percent of small businesses say interest rates and finding financing are their top business problem, the same low level as a year ago, according to the National Federation of Independent Business. Twenty five percent, meanwhile, say the quality of labor is their top problem.
Regardless, rates are likely to keep heading upward, and the yield on the 10-year Treasury note is close to its highest level in more than seven years. That means it's only prudent to consider what you can do now in advance of even more increases. Here are some suggestions:
— Get control over day-to-day cash needs. Small-business owners can't convince the Fed to slow down its pace of rate increases, but they can manage their own cash flow better. See which suppliers will allow you to pay later, and which customers are willing to pay earlier in hopes of smoothing out the flow of cash, Matia said. That would mean less dependence on credit cards or other financing to cover lumpiness in cash flows.
— You can negotiate. Jeff Berdahl, a partner with RLB Accountants in the Lehigh Valley area of Pennsylvania, has had small-business clients negotiate a lower rate on their lines of credit with their bank after saying they were considering moving their business to a competitor.
— But don't let fear of rising rates dictate your behavior. With rates rising, maybe there's some temptation to buy that building, truck or equipment now before rising rates make borrowing more expensive. Don't fall for it. "It has to make economic sense," Berdahl said. "Don't let the interest-rate tail wag the dog."