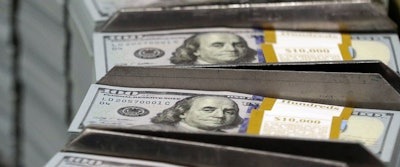 WASHINGTON (AP) — A survey of U.S. business economists finds concern about the risks of some of President Donald Trump's economic policies. Many say they worry that his tariffs and higher budget deficits could eventually slow the economy.
More than 90 percent of economists surveyed by the National Association for Business Economics say the Trump administration's current and threatened tariffs, which are taxes on imports, would harm the economy.
Seven in 10 say Trump's tax cuts are "too stimulative" because of the resulting increases in the national debt, even though two-thirds say the corporate tax cuts generally benefit the companies they represent.
But the survey respondents envision some Trump policies as supporting the economy. Eighty percent tell the NABE that the administration's efforts to ease regulations would boost growth in the short run.