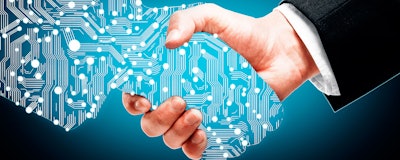 Discrete industries, such as high-tech, IM&C and automotive, are leveraging new technologies to achieve faster speeds of production to meet consumer demands. This includes revisiting and updating old business strategies by using a digital transformation strategy.
Recently, General Motors (GM), Krones AG and Microsoft came together for this panel to discuss transitional strategy and why companies cannot adopt new technologies for the sake of adopting new technologies. Across these companies, digital transformation is considered a process that begins from the top down and involves all employees as well as a strong digital core with consistent data. When the smartest technologies, people and data are combined, digital transformation is achievable. Here are some examples that illustrate how companies are achieving digital transformation.
High-Tech Industry: Moving at a Faster Pace
Today's leaders in the high-tech industry are those who are putting a conscious effort into improving the customer experience. These leaders have found success by implementing machine learning to create automated systems, as it provides the opportunity to free up man hours, giving employees the ability to devote time to data analytics.
In this panel discussion, Mike Taylor, Microsoft's General Manager of Enterprise Application Services, shared the main challenges and solutions the company faced while undergoing a digital transformation. For a company that was founded 43 years ago, executives faced challenges in managing legacy processes and removing older processes to make room for new technologies. Additionally, Taylor describes the challenge of communicating why updating technology is important to long-standing employees, who are not ready for change.
Microsoft's goal is to develop tools and processes for consumers that allow the company to stay on the competitive edge. To accomplish this goal, Microsoft is implementing new technologies as soon as possible, as the speed of the business has radically shifted.
Machinery Manufacturers: Meeting the B2B Market
The IM&C industry has recently experienced pressure to update their services to compete in the B2B market. Companies are responding to these pressures by updating their supply chains with new technologies. Technologies such as IoT give IM&C companies continuous feedback on the performance of their products to ensure they are meeting the needs of the consumer.
For example, Krones' Head of Global eBusiness and Digital Data Management, Bernd Baldauf, shared insights on how the company implemented IoT into its machines and manufacturing processes in this panel discussion. For Krones, IoT is improving the complete life cycle of its business, from adding advancements to machinery to delivering products to consumers at faster speeds.
In addition to experiencing a digital transformation through new technologies, Krones also saw a shift in company culture, as employees were no longer working in silos; rather they were coming together to complete projects as an efficient team. Projects that previously took six months to complete now only take two, which is necessary to keep up with the speed of production and consumer demand. Additionally, Krones uses 3D printers to build emergency spare parts, to keep production moving in the event machinery breaks.
Automotive: Driving Innovation in the Industry
As this Futurum whitepaper notes, the automotive industry is shifting from a manufacturing and sales industry to a completely integrated industry that can provide services from traditional electric batteries to autonomous driving and retail services. A priority for the automotive industry is to manage the customer experience to provide outcomes that go beyond manufacturing and purchasing a vehicle.
For more than 100 years, GM has led the automotive industry through a "build, own, sell" model, as described by the company's Global Executive Director, Dan Mahlebashian, in this panel discussion. However, as the market grows, GM is working to create a more holistic driving experience by offering mobility as a service.
To provide consumers with a full-service offering, GM is undergoing a digital transformation by adopting technologies that connect the entire enterprise. New technologies have created a simplified, smarter and faster workflow for GM through automated decision making. The company is also implementing blockchain to manage assets and revenue as an end-to-end process.
Another example of digital transformation in the automotive industry is Rinspeed. Frank M. Rinderknecht, Founder and CEO of Rinspeed, shared insights in this panel regarding how the company is creating an interactive experience for drivers. Rinderknecht's goal for Rinspeed is to influence the future of the automotive industry by creating a connected, automated ecosystem that will transform mobility and transportation. Through vehicle insight software, companies such as Rinspeed are able to collect data from vehicles to better manage fleets and improve driving experiences. Additionally, a connected vehicle network brings together companies with a variety of service offerings for travel, all in one place for drivers.
The Road to Digital Transformation
Digital transformation for discrete industries is an all-encompassing journey, as it requires a commitment from the entire organization to adopt new technologies and improve business strategy. In efforts to offer a list of services for customers, business models transform over time as priorities change to meet customer needs. Leaders in the high-tech, IM&C and automotive markets can adopt technologies to set themselves apart from competition to increase overall customer satisfaction and support. Companies that have made their mark in the industry should fully embrace innovation for a successful business strategy and long-term growth.
Stefan Krauss is Senior Vice President and General Manager of Discrete Manufacturing Industries at SAP.