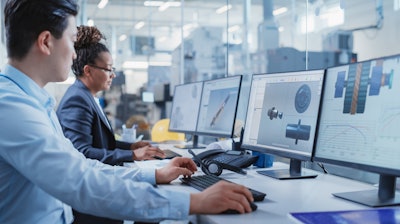 iStock
Bringing a product from its initial concept to a fully realized consumable is no small feat. Product development can be a prolonged and iterative process with countless roadblocks. To maximize efficiency, product managers must have a clear sense of the challenges they face and the potential for product roadmap management software to help address them.
What are the Most Common Challenges Faced During Product Development?
Consider just a few product development challenges that manufacturing companies must face.
Complex Supply Chains
Manufacturing even a relatively simple product may require numerous suppliers, components and materials. Each point along the supply chain must be harmonized with the broader product development roadmap.
Varying Product Lifecycle Phases
Different products or components can be at various stages of development, production, or even retirement, which can be challenging to manage. Often, product managers must contend with different iterations of the same basic product or juggle the demands of various items within the product portfolio.
Regulatory Compliance
Manufacturing companies are often subject to stringent regulatory requirements that change over time and vary by region. Product development must always be coordinated with legal compliance, encompassing everything from consumer safety to environmental stewardship.
Cross-Functional Collaboration
Effective product development never happens in silos. Instead, it requires multi-disciplinary teams of designers, engineers, and testers to work together in tandem. Ultimately, bringing the product to store shelves requires collaboration with sales and marketing professionals.
Resource Allocation
Another challenge manufacturers face is ensuring their resources are allocated as effectively as possible. This includes manpower, equipment, and raw materials. Ineffective resource allocation can yield a number of issues, including production bottlenecks that can bring the entire product development process to a standstill.
Time-to-Market Pressures
Reducing the time it takes to get a product from concept to customer is crucial in competitive markets. Manufacturers must be responsive to consumer demand and to what their competitors are doing, all of which means getting products to market in a fairly timely manner.
Cost Management
Manufacturing projects often come with tight budgets. Naturally, controlling costs is always a high priority. Failure to do so can erode profit margins, risking a non-viable product before it's even shipped to customers.
Changing Consumer Needs
As market demands evolve, so do product requirements, which can necessitate design or production changes mid-course. Effective product management means being nimble and adaptive to changing consumer preferences or behaviors.
How Product Roadmap Management Software Can Help
Manufacturers cannot avoid these challenges, but product roadmap management software offers the tools to address these challenges proactively. Here are a few benefits that product roadmap management can offer.
Visibility Across Supply Chains
Roadmap software allows teams to visualize the entire supply chain, identifying potential bottlenecks or areas of concern. This perspective can enable product managers to source new vendors or to make necessary changes to the production timeline.
Lifecycle Management
With roadmap software, teams can track products at every stage of their lifecycle, ensuring no phase is overlooked. In other words, the right software solutions can ensure that product development teams pay an appropriate level of attention to products that are new to market and those that are close to being sunset, offering adequate support to the entire pool of customers.
Compliance Tracking
Additionally, product roadmap management software can be used to track regulatory changes and ensure products remain compliant throughout their lifecycle. This is an invaluable way to alleviate some of the regulatory burdens that product managers feel.
Enhanced Collaboration
Product roadmaps dismantle siloes! A centralized dashboard fosters better communication among departments, ensuring everyone is on the same page.
Optimized Resource Allocation
Roadmap software can help identify underutilized assets or overburdened teams by providing a visual representation of resource allocation.
Reduced Time-to-Market
With clearer visibility and improved collaboration, teams can accelerate their decision-making processes. In doing so, they can abbreviate the time it takes to bring a product to market.
Cost Monitoring
The best product roadmap software includes budget tracking features, helping teams monitor costs in real time and adjust as needed.
Improved Agility
Finally, roadmaps allow product managers to respond to change, enabling them to pivot in accordance with shifting consumer preferences. This helps products remain both relevant and competitive.
Overcoming Challenges with Advance Software Solutions
The bottom line is that product development is a multi-step process involving many variables and countless potential hurdles. Product managers have their work cut out for them as they seek to clear those hurdles, but product roadmap management software can be an invaluable asset.
Indeed, the right road mapping tools allow for improved visibility, collaboration, agility, cost control, and more. As such, these software solutions can make all the difference in successfully getting a product from its initial sketch to the marketplace.
Maziar Adl is a strategic leader with a record for spearheading the successful design and rollout of medium to large-scale technology roadmaps and transformation. Throughout his career, Adl has become renowned as an expert in improving organizations and teams' long-term performance strategies using better, accessible and timely information and analytics.