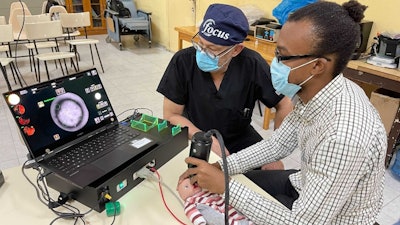 MRPeasy
RetiVue is a medical device manufacturer producing affordable, high-definition retinal imaging equipment that aids in the early documentation of eye disease. The company conducts both research and manufacturing with a team of only four people.
Managing Production with Spreadsheets was Unsustainable
"Before I started, there was no system," says Lindsey Daniels, Project Manager at RetiVue. "There was no documentation about what part went where, everything was just in someone's head."
Daniels recalls how she started out with spreadsheets, entering over a hundred parts with all of the associated data. "I realized that this was not going to work," says Daniels. "A spreadsheet system was not going to be sustainable, especially considering the traceability regulations we had to comply with."
A Software Provider Focusing on Operational Excellence
Daniels started searching for a solution that offered robust inventory management functionality as well as end-to-end traceability. After reviewing several options she decided to implement MRPeasy.
"Compared to other software providers, MRPeasy was clearly focused on operational excellence rather than advertising and sales," Daniels states. "I don't want someone to give me a sales pitch, I just want something that works."
She found it reassuring that MRPeasy allows people to see the user manual and documentation without being a customer. "I could go and see for myself what they offered and how it worked before making a commitment," she says. "After the free trial, I was convinced."
MRPeasy
Using Online Materials to Implement the Software Alone
Implementation took around two months before Daniels had set up what she considered the most important: parts management. She learned the software by using MRPeasy's online resources. Then, she taught her colleagues how to use the software.
"I work with these savant-type researchers and engineers who generally dislike organizational stuff," she says. "But now they have to admit that the system has proven beneficial."
After the initial inventory setup, she gradually rolled out additional functionality including procurement, production management and quality inspections. As medical device manufacturers need to have reports available for every step of the way, an effective inspections process was crucial for making their product market-ready.
"We had to modify our inspection workflow a bit to ensure that it would match the level of organization present in the software," Daniels admits. "But it was very necessary."
Managing Everything in a Single Cross-Functional System
A year and a half in, the benefits are evident. RetiVue now has full product traceability, ensuring compliance with related industry regulations. They can also collect vast amounts of data without becoming lost in it.
"I can click on a part, find a two-year-old PO related to it, see its different versions, track price changes, and so on," Daniels says. "The information is easily accessible thanks to the search and filter functions."
Another important benefit of MRPeasy reported by Daniels is the system's end-to-end functionality. Everything related to the manufacturing side of RetiVue is managed within a system where all modules – inventory, procurement, production planning, etc. – interact with each other.
The Most Useful Software Seen in the Last 10 Years
Daniels highlights that MRPeasy is one of the first solutions that feels like it has been actually designed for small manufacturers. This is apparent in the way user permissions are handled, allowing administrators to customize the permissions per user. This is very useful in companies where employees wear multiple hats.
"I feel that the software would work as well in a single-person business as in a company of a hundred," she says. "It is obvious that MRPeasy gives us a lot of room to grow."
While MRP software used to be associated with large enterprises, nowadays these solutions are available to even the smallest players. Still, many small companies are hesitant about new systems. Daniels believes that this is due to the expectation that properly implementing MRP software is difficult and time-consuming.
"Be that as it may, a small investment of time put into implementing MRP software will save you ten times as much time next year," she maintains. "Sure, not all systems can deliver that, but MRPeasy can. It is undoubtedly the most useful piece of software I have seen in at least 10 years."
For more information, visit www.mrpeasy.com.