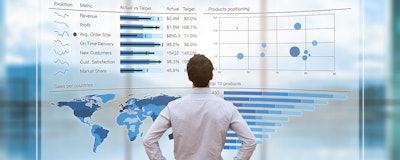 You know that data is important.
You should have data on your productivity, equipment, parts, etc. But do you know how to extract the right data to achieve your ultimate goals? And could there be a way to use that information as a proof point—to share your operations story and prove your value?
Whether you're new to reporting on your daily operations or you've been doing it for years, there are always new things to learn, new reports to try and new ways to share important information about your team's work. This is especially true as more operational data becomes available in this modern era.
Today, there are even more capabilities within a CMMS (computerized maintenance management system) to make reporting quick and specific—not to mention highly visual and easier for everyone to understand.
Now is the time to start harnessing the data coming out of your daily operations and turn it into actionable information to make a difference in the way you work and what you accomplish.
When you can bring reporting to life for others and make it more clear, accessible and impactful, you can find new ways to improve uptime, justify repair vs. replace decisions and even increase your overall productivity.
Improving Uptime... One Report at a Time
Uptime, or more likely downtime, is likely on everyone's mind.
While the unpredictability of assets can further complicate things, downtime is a profit killer that should be avoided at all costs.
To really get your arms around where you're at now and how you can significantly improve your uptime, there are a few reports and key performance indicators (KPIs) that can really help you pinpoint and fix problem areas:
Downtime Analysis Report – This report shows the specific causes of downtime, their percentage of total downtime and work orders associated with each. By pinpointing what's causing most of your downtime, you can map out the best way to eliminate it. You can't improve if you don't have information on what's hurting you.
KPI: Downtime Impact Hours – This shows a scale of your downtime in hours in a given day, week or month. You can use this KPI to measure progress on specific goals around downtime and make sure you stay inside the target.
Equipment Downtime Summary – This graph shows the downtime total for each piece of your equipment to help you tell if there is a specific one costing you more in downtime.
Whether you use reports and benchmarks like these to set goals for better uptime or to show your success with new processes, they can be a powerful way to get everyone on the same page.
Should You Repair or Replace?
To repair or replace—that is often the question when it comes to your assets.
They may be showing some serious signs of wear and tear, so how much more life can you get out of them? And when do they become a drain on your resources?
While you might have a gut feeling about it, hard data is best to prove what's better in the long term for your team and equipment. And it's amazing the visual charts, graphs and reports that today's asset management systems can produce in seconds.
Forecasting tools can really help you see the future of your assets and easily make decisions around repair and replace, as well as prove why you made them to others. Look into reports like these for answers:
Asset Life Cycle Analysis – This type of report gives you a grade for groups of assets based on their age, historical work, cost and event trends. Then, you can take those grades and make your decision based on the longevity of your equipment.
Trend Analysis – This one charts out the trend of an asset's cost based on the frequency of failure. This type of data may be useful to see if an asset is on the uptick or if it's wasting resources and make decisions based on that.
Not only can a CMMS help you make these types of critical decisions, but it can help you improve your preventive and predictive maintenance approach to extend the life of your machines and equipment, even by as much as 35 percent.
Doing More With Less
How productive or efficient is your team or department?
Whether you're being approached by a manager or director with this question or you're thinking about it yourself, reliable data can be a clear representation of the important work you do. It may even be that your department's budget is in question and you must do more with fewer resources.
Either way, you want to start now measuring your productivity and finding ways to increase your output.
Look to reports like these to measure your equipment and team capabilities:
Work Order Prioritization by Equipment Criticality – This report combines the priority of individual work orders with the criticality rating of the asset to create "calculated criticality," often called ranking index for maintenance expenditures (RIME) index. This rating can help you find ways to increase your productivity and efficiency by addressing your most critical concerns.
Completed On-Time vs. Late Summary – See the amount of late vs. on-time work orders, their priority and work assigned by staff. This report can help show if you are efficiently addressing work orders and using the right staff member for the job.
Site Comparison – Get a side-by-side view of the work and productivity of multiple sites or plants, so you can keep an eye on every location and do simple comparisons.
With a range of data points at your fingertips, you can feel prepared to create a plan for improving productivity in your equipment and team members.
Data is Your Present & Future
Data is clearly everywhere. And no matter where you are on your data or reporting journey, there's so much you can do within today's technology. That's why it's time to put a good CMMS to work to create actionable information that helps you plan your next steps.
Pull equipment reports, share team productivity graphs and monitor KPIs aligned with your corporate goals, all with a few clicks created quickly from your daily work and asset data.
It's all waiting for you to dive in and share to start charting your future for success.
Paul Lachance is the senior manufacturing advisor for Dude Solutions.