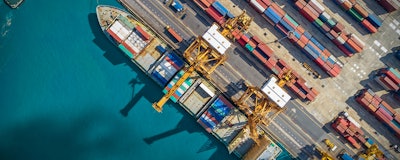 With the pressures of globalization, e-commerce, and growing customer demand, companies need a strong supply chain to help differentiate themselves from their competitors. Consumers want product availability, quick delivery, and easy return options. Achieving this level of service without sacrificing profit is practically a prerequisite to staying afloat.
According to research from the Hackett Group, 66 percent of supply chain leaders believe that advanced analytics will be critical to their operations in the next few years. Strategic insight and the ability to execute is invaluable; but putting the right metrics in place is only the beginning. Below are 3 ways to optimize your operations and stay ahead of the curve.
Establish Your Metrics
You can't fix a problem you're not aware of or improve performance if you have no basis for successfully measuring efficiency. Set service, operations, and sustainability KPIs. When you think about quality execution, don't just measure it in terms of how consistently you deliver on-time and in-full, but whether you continually do so at the lowest possible cost.
When assessing your situation, start with smaller timeframes. Consider what elements are manageable and what ROIs are achievable within a year. Determine what flows—whether it's spare parts management or reverse logistics—have the greatest impact and room for improvement. Once you start formulating attainable goals, begin thinking about the various constraints, complexities, and internal and external parties that affect these processes. If you want to be strategic, don't limit the variables to the channel they seem to immediately fall in; for instance, choices made within warehousing and inventory can affect factors of time and cost in transportation.
Collect & Analyze the Data
To measure the performance of your supply chain from end-to-end, as well as all internal and external parties, you'll need tools that enable full visibility. A control tower will help you integrate data from disparate groups of internal and external services and systems, so you can leverage information across channels. Once you digitize and centralize the data, you can better identify bottlenecks, time constraints, and other inefficiencies.
Find pain points that affect profits, costs, and margins using real-time dashboards and interactive reports. Review logistics processes for any gaps, and regularly monitor customer, supplier, and carrier performance. Ideally, you'll want to use dynamic tools that help you leverage your resources, but also expand your network when needed. For instance, lost transportation opportunities can easily lower your bottom line. Once you have a vast repository of information, always interrogate the status quo: Is there a better way to optimize shipments? Is there a more effective way to manage inventory at distribution centers?
Apply the Results
Once you've identified the goals and pain points, set a system in place to better plan and monitor the execution. The amount of available data can seem overwhelming—especially when toggling between systems. However, you can simplify the process by switching to a single system that connects these disparate parts. You can configure these to make smart, automated decisions that take into account a myriad of variables and parameters regarding performance and cost. The software uncovers and resolves potential issues or else alerts relevant parties to take immediate action. This way, businesses can optimize flows and rate shopping with minimal effort and risk.
Unfortunately, there is no single right way to apply results because every order lifecycle can carry unique problems and outcomes. Hence, supply chain excellence is a journey. On the bright side, every decision the system makes forms a feedback loop to enable continuous improvements. In this way, orchestrating perfect orders is as dynamic of a process as the market in which it functions.
If the destination is customer service excellence at minimal risk and cost, then supply chain optimization is a never-ending process that balances those components. The more organizations lean on multiple third parties to streamline their processes, the more data, systems, risks, and complexities they introduce. This is not to say that networks are inherently defective; to the contrary, collaboration is the industry's present and future. The key is to, in fact, embrace this new reality. Rather than increase the risk between these links, companies would be wise to think across channels looking at the bigger picture when conducting and acting on analytics.
Remember: no order milestone exists in a vacuum—and neither does each helping hand of the operations. The degree to which you minimize cost and risk for each milestone is influenced and optimized by other areas of the supply chain. If you're only accruing and analyzing data in silos, you're not realizing the full potential of your network. While industry leaders are right to recognize the value of advanced analytics, the real advantage will be a broader application across a unified system that is continually learning and adapting.
Martin Verwijmeren is co-founder and Chief Executive Officer of MP Objects. Contact him at [email protected].