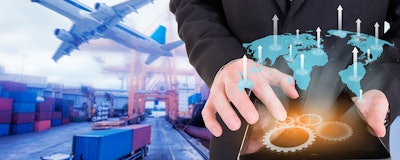 Surviving in today's competitive and complex market by developing an appropriate forecasting model to fulfill demand in the supply chain process is not everyone's cup of tea. Have you wondered why? One of the primary reason for failure is the continuous use of old techniques. Even today professionals are seen making use of methods that aren't capable enough to perceive continuous information from the data available to make appropriate decisions.
With all the shiny new options available for businesses, the temptation is to latch on to the trendiest tech offerings- machine learning is one of those. The supply chain realm seems to have given a whole new life to the machines making them better and smarter like never before. Day in day out the tech is seen offering better analysis insight which in return helps in reducing the revenue and increasing the efficiency. Before the inception of machine learning, manufacturers used to face difficulty while predicting outcomes. As a result, these machine learning apps are made to give better decisions and results based on the predictive patterns by relying on the algorithms.
Further let's consider why professionals have started considering artificial intelligence and machine learning to streamline and optimize operations in the field of supply chain management.
No. 1 - Better Decisions
Till now I am sure you must have understood the importance of making the right predictions in the supply chain industry. Every decision taken during the life cycle affects the functioning of the industry directly or indirectly. Machine learning featuring analytical approach has the capability to process large data set to provide valuable insights that result in quick decision making.
No. 2 - Scalability of manufacturing processes
Due to the emerging tech, a significant transformation is being witnessed across every industry vertical, and the supply change industry is no exception. Professionals here require to stay prepared in case of a sudden influx of new orders on account of quick growing retail businesses. And here machine learning comes into play it keeps the industry ready for upcoming challenges. In addition to this, it offers better support to the staff especially the ones dealing sudden changes in the scale of operation and keeps your delivery systems clear of backorders.
No. 3 - Smart machines
Combining machine learning and big data means you can come up with smart machines (featuring provided instructions). Gone are the days when people used to consider a machine with low-level operating value, today demand for smart machines has sustained to perform the provided task more effectively.
No. 4 - Cross Functionality
Unfortunately, most supply chain industries do not have integrated IT systems. This makes things more challenging for cross-functional teams to accomplish shared goals. With emergence of machine learning in supply chain industry, these cross-functional teams can work with greater insights and intelligence across teams. Production workflows, inventory, and value chain decisions, all become optimized.
No. 5 - Supplier Quality Management
Another exciting aspect of machine learning technology is that it improves supplier quality management. The powerful pattern recognition technique offers quick and accurate supplier's quality level and log creation. This means products or materials supplied to the industry must have adhered to a few minimum criteria so that the material quality and track of other dependent factors remain appropriate. With the introduction of ML in industries, professionals are now able to maintain accurate report of every operation involved in the product hierarchy saving the extra effort and cost associated with it.
No. 6 - Improved Demand and Production Planning
When it comes to demand planning, machine learning is the best option worth taking into account these days. But what if I say the inclusion of ML in production planning is harder than in the case of demand planning? As a result, various applications featuring machine learning are developed to meet the organizational objectives. It identifies customer demand patterns and presents the proper solution for multiple scenarios, making an organization to stand steady among other competitors.
No. 7 - Stock levels perfectly maintained
If we think of the ongoing planning methods, several organizations are found keeping accurate stock records almost all the time. However, implementing machine learning can help in monitoring various variables for maintaining an optimum stock level driving a secure future.
No. 8 - Accelerate operations
The technology successfully helps in planning, scheduling works right from inventory management, aligning labor, resources, equipment, pricing, timing and so forth. Speaking of inventory management in particular, machine learning offers a plethora of benefits such as:
Finding proper data to gain inventory optimized results
Well-maintained data
Automating recognition
Predict out stock
Reduces the process and admin costs
Improved connectivities between the warehouses, logistics and automated resources
No. 9 - Launching a new product
One cannot launch a new product just like that! There needs to be proper planning before introducing it in the market. Marketing teams are seen performing an in-depth research of a product in particular whether in favor or against among the subjected audience. The conducted study has to be highly qualified which contains the background study of the product and consumers, but, can't always direct an organization to a proper outcome. ML provides all the concluded consequences that maintain transparency availing great chances for its verification.
Conclusion
Artificial Intelligence, machine learning, augmented reality if implemented at right corners in right time can work wonders like never before. The points outlined above represent a small sample of what these technologies could bring to supply chain management and logistics. This post can definitely guide you in becoming the big player in the market.
Vikash Chaudhary as a manager at a software outsourcing company Tatvasoft.