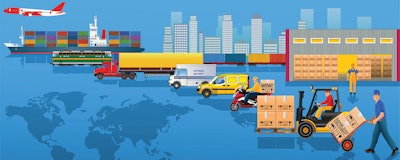 The global trade landscape is becoming more dynamic every day, with ever-changing rules and regulations to keep goods moving across borders. As countries start to flex their economic muscle, these rules that keep goods moving across borders are only going to get more complex. Scores of countries already have their own customs and compliance rules, there are numerous international trade agreements, and a host of new pacts that will be coming online. Plus, as emerging economies continue to develop, they add their own rules and regulations into an already confusing customs stew.
For instance, in the past year, the United States government declared various regulatory policies that have had a ripple effect across the trade industry. Take for example the decision to impose trade tariffs on China, which was reciprocated by the country's own regulation on American goods. While these policies may bring about great transformation to certain businesses, there are some that are already beginning to feel the impact.
Most recently the state of Maine's lobster industry, took a particularly hard hit, facing a 25 percent tariff as a result of this decision. With 70 percent of Maine lobster exports going to Asian markets, the trade tariffs drove away customers and put jobs across the supply chain in jeopardy. While this is one example of the effect these policies can have, it is not unique to this specific industry and is only scratching the surface of what's to come. Therefore, it has never been more important for businesses to shift their focus to implementing compliance technology into their supply chain.
Importers, exporters, and customs brokers are wise to adopt technology such as a customs management solution to automate these processes and efficiently navigate this volatile environment. Due to the dynamic nature of the supply chain, it is critical that the customs management suite is future-oriented and goes beyond the electronic customs declaration. In addition to the actual features, the system architecture itself is crucial, and the software should be integrated, automated, and flexible to ease the user's workload and reduce errors that lead to costly fines.
Companies should look for the following attributes to in order to best leverage the technology and adapt to future developments:
Integrated knowledge database: In light of globally diverse and dynamically changing regulations, laws, and tariffs, customs systems should have constantly updated knowledge databases.
Limitations and preferences: It should be recognizable prior to import whether goods are subject to any import restrictions, what the underlying tariffs are and whether a tariff preference can be applied.
Interfaces with the existing IT environment: One key to success is how the customs management suite integrates with the existing IT environment—including systems like the ERP, TMS and WMS. Through integration, all solutions can work with one central database. This saves time, avoids transmission errors, and ensures a standardized and consistent database.
Integrated workflow management: This functionality allows companies to automatically define the proper individual customs clearance processes and assign them to the right employees for handling.
Document management: With an integrated document management system (DMS), all documents that are part of a customs clearance process are filed in a digital folder, so they can be found quickly and in such a way that audit requirements are met.
Classification of goods: Fully or semi-automatic classification of goods is another significant simplification. Classifying means attributing the right commodity number to one's own goods.
Automatic tariff assessment: The attribution of the correct customs tariff to a commodity is the basis of all import and export processes. An intelligent customs management suite can automate the attribution process to the furthest extent, which greatly reduces the risk of error.
Backup: One's own organization, customers, and authorities all demand fast, safe, and simple access to data. Therefore, having integrated data backup goes without saying for a modern customs system.
Correct handling of the Anti-Terrorism Directive: Regulations often center around embargo measures in the fight against terrorism, which are not aimed at particular countries or groups of commodities, but at persons, organizations, and affiliations with which business contact is prohibited.
Simplified manual input: Despite the automation, manual input will not be completely eliminated, so it is important to simplify the input activities as much as possible.
Powered by people: Licensed customs brokers on staff to interpret and implement changes into the software is invaluable and saves precious time and resources for companies who do not have to staff experts for these functions.
Automatic customs value assessment: The customs value assessment is one of the more complex topics and should be supported by a high-performance IT system.
It's both an exciting and challenging time to be a part of the supply chain industry, with so many developments unfolding every day. While many industries such as Maine's lobster business have taken a hit, there's still time for businesses to prepare themselves for further changes that are coming. The software technology available for customs declarations has developed rapidly in recent years and opens up substantial possibilities for public authorities, importers and exporters—as can be seen in the increasing digitalization of the global customs clearance processes. By taking advantage of these technology advancements for the supply chain, businesses can better-leverage complex regulations and unlock substantial opportunities.