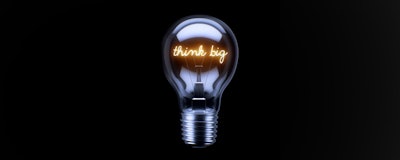 At the end of every year, pundits from vertical industries, consulting firms, and technology providers share their forward-looking predictions on what will make headlines and drive Information Technology (IT) sales in the coming year. The list profiles innovative solutions that are creating buzz and gaining sales momentum. However, this grocery list-approach to IT investments, also underscores one of the faults in today's adoption trends: Where is the strategy?
Five Dangers of Hype-Driven IT Investments
Here are five ways manufacturers can begin to implement a big picture strategy and avoid knee-jerk responses to problems.

Competition. The competitive nature of business can influence some enterprises to adopt technology just because the competition has done so. Blockchain is one example of a technology that is in the spotlight for this reason. Blockchain is gaining attention and adoption—even when there are uncertainties over the true benefits and long-term applications. Manufacturers should always be certain they are adopting solutions that align with their strategy, and not because of pressures to follow a trend.
Impulsive decisions. The desire for a quick fix can push manufacturers into making rushed decisions. Tax implications can sometimes cause an abbreviated planning phase. For example, some early-stage deployments of Internet of Things (IoT) technology generated vast volumes of data—but without the ability to effectively sort and transform the data points into insights. Sensors and their ability to capture data received all the hype, but the accompanying need for Business Intelligence (BI) solutions which could manage the volume and provide necessary insights were glossed over. Emphasizing thorough planning, even if it means taking more time or hiring consultants, will pay off in the long-term.
Temporary bandages. A software solution can hardly be called an impulse buy, like a pack of gum near the checkout counter. However, some manufacturers do fall into this trap due to a situation that has escalated to crises-level. This could be a rash of late deliveries, spikes in stock-outs, or inability to comply with a new industry or government mandate. Fines over compliance issues can trigger the CFO to insist on an immediate resolution to prevent further fines. However, such bandage-solutions may cover up the underlying issues, masking core problems. Doing a deep dive into causes and influencing factors will provide a more holistic view of the issues, allowing the organization to make proactive changes, such as upgrading the Enterprise Resource Planning (ERP) solution.
Lack of integration. One of the biggest problems with hype-driven purchase decisions is that they often apply to one business unit or one isolated issue. The solution might be deployed to a few individuals or plug into processes only for "as needed" use cases. On the surface this may seem harmless—until discrepancies start to appear and different versions of the truth start to creep into reports, causing executives to question the reliability of all data.
Strategic planning for IT investments. For the manufacturer motivated to achieve system-wide efficiencies, a big-picture strategy needs to be implemented. This foundation will act as a guidepost to investments, ensuring that overarching goals are met first, and individual business units act within priorities and parameters set at the top level of the organization.
Five Guidelines For Setting Strategies For 2019 IT Plans:
ERP upgrade. In this era of fast change and sweeping digital innovation, staying up with the newest version of the enterprise's ERP is essential. Updating the core ERP will help the organization set strategies in sync with the industry's best practices—without the time and expense of a totally new implementation. However, if the ERP that is currently in use does not have the last mile industry functionality needed, this may be the right time upgrade. Attempting to move into the digital era with an outdated ERP as the backbone will be frustrating. A modern ERP will likely have advanced features, like AI and predictive analytics built-in, eliminating the need to bolt-on separate solutions.
Deploy in the cloud. Moving to cloud deployment is more important than ever. To take advantage of IoT functionality, the elastic storage capacity of cloud computing is needed. Sensors produce such vast amounts of data that storing it on premise would take massive resources. Cloud deployment also ensures "always modern" functionality as solutions are continually updated, eliminating the need for upgrades.
Ensure integration. When considering point solutions, which can offer tremendous add-on value, be sure that the solution can be fully integrated to the ERP and it supports full visibility. Purchasing suites of solutions that are from the same vendor and manage data in the same way, will eliminate possible compatibility issues from disrupting reporting.
Rely on partners. Adopting digital concepts can be complex. Eliminating modifications from legacy solutions, migrating data, incorporating robotics and automation equipment, and building new revenue streams are typical elements—each one requiring expertise. Changing management initiatives will likely be needed to ensure the buy-in of personnel and smooth transitions. The internal IT team is unlikely to hold such broad expertise. With a lingering skills-gap issue, most manufacturers have already stretched their current IT resources thin. Turning to industry consultants service providers with deployment experience is a logical alternative. Expertise derived from previous deployments will help the organization avoid common pitfalls and follow tactics that are proven and field-tested.
Stay up-to-date. Although a strategic plan needs to be in place, it should be highly flexible to accommodate fast-changing market conditions. Agility in manufacturing is critical. It is a good idea to plan check points to review and adjust as needed. Strategic planning can no longer be a static, rigid frame that is created once a year and then abandoned.
Get Started Now
A final piece of advice to manufacturers is to get started early, be thorough and inclusive. Invite personnel in multiple departments and with various backgrounds to contribute ideas. Input from nontraditional sources can be innovative and inspiring, exactly what manufacturers need today. New ideas open doors to new opportunities. This is the time to engage in new thinking, deploy disruptive technologies and embrace digital innovation. Just do not forget to map the underlying strategy.
Nick Castellina is Director of Industry and Solution Strategy at Infor.