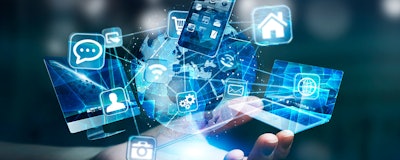 Today's manufacturers are facing a greater range of challenges than ever before. Product release cycles are shorter, budgets tighter, and supply chains more diverse. Products themselves are more complex, thanks to the rapid growth of sensors and other instrumentation found in everything from refrigerators to door locks.
Competition is tougher, too, with manufacturers now offering mass personalization of products, and with the Web bringing product catalogs to the world's smartphones.
Add to this the fact that manufacturing is an increasingly complex endeavor. A new color, larger size or other change to production kicks off a volume of process updates. Those updates branch out from the shop floor to the Manufacturing Execution System, to the ERP system, then to logistics, purchasing, finance and other units.
Likewise, a change to the supply chain requires changing supplier privileges and various records across the organization.
The problem, in a word, is data. There's lots of it today, and much more coming tomorrow, with increasing numbers of machines, routers, firewalls and applications to generate information—big data, if you will—about themselves.
As a manufacturer, your time is best spent improving production processes, evaluating suppliers, even designing new product features. You shouldn't have to chase data around the organization or worry about the integration details of an ERP system.
There's no easy solution to simplifying the data requirements of MES, ERP and other systems. But there is a way to streamline the data they're producing, and use that data to create a layer of visibility across the organization, one that can reveal the workings of the processes below.
That's what a data management platform can do. It can query operational processes in real time to find out why, for example, a shipment of parts is missing. Because it overlays all operations, it can help the operations manager perform root cause analysis, by combing back through the MES and ERP systems and out to the supplier.
A Look Inside
Modern data management platforms feature several key attributes:
Ability to ingest large volumes of data – Machines, processes, firewalls and business applications create large streams of fresh data. The platform should be able to take this information in in real time and in its original form. Advanced compression techniques make it possible to keep the data original so performance isn't downgraded. Older-style platforms require data indexing, which adds layers of complexity that can obscure the value of the original data.
Correlation with historical databases –The data management platform should be able to access the company's historical information, typically housed in databases, data warehouses and data lakes. These data stores are often controlled by individual business units in the company, thus creating "silos" of data that may be inaccessible to other groups. The data management platform then uses this data to build historical models that combine with the real-time data streams to create new process analytics.
Cloud-based infrastructure – Doing all this in near real time requires massive computing resources that would be prohibitively expensive for many businesses. Modern data management platforms benefit from the elasticity of the cloud, which lets them ramp up or ramp down computing power as needed.
Wide-ranging applications – The best platforms give users a choice of applications. They offer pre-built applications, for system monitoring or alert management, for example, as well as partner applications and tools for developing custom applications.
Finding Anomalies
The central task of a data management platform is to find anomalies in the data being generated by networks, firewalls, production logistics, and other operational systems. The platform applies sophisticated machine learning techniques to incoming data streams to find meaningful patterns of data.
It then correlates the results with other data—historical, for instance, or third-party data streams—to determine what may have caused the anomaly, and how the anomaly will likely affect users or operational systems. The data management platform creates a visual data-interaction model for the user, who can then select, search and analyze the data without having to write additional code.
In some cases, the more event-stream data that can be kept "hot," the higher the accuracy of the analysis. For that reason, it's not unusual for a modern data management platform to keep a year's worth of event-stream data accessible for instant analysis.
Once in place, the platform can be used across the organization. In critical functions such as security, it can support firewall reporting, displaying all company firewalls, regardless of their location and using heat maps or other tactics to locate attacking IP addresses. A shop floor, for example, consists of various IoT devices. An attack detection application can quickly uncover port scans and brute force attacks, and can also detect domains used for malware.
Shop Floor to Field Service
In the same way, the platform gives other users the tools to analyze machine and application performance, and to find, and even head off, anomalies that may present problems.
Some examples:
Shop floor – find equipment or process malfunctions;
Quality assurance – determine the reason for component failures or lowered chemical quality;
Field service – investigate equipment malfunctions, and in some cases undertake proactive repairs;
Operations management – discover possible conflicts in new processes or components.
Making Friends With Data
With the advent of CAD systems years ago, manufacturers learned that data, used well, can bring significant advantages. It can shorten design times and reduce time and costs by letting design and manufacturing engineers work with on-screen models rather than physical prototypes.
That's what data management does for operations. It lets organizations create models that can show how real-world events are transpiring or may transpire. It can cut the time and costs of physical troubleshooting for those manufacturers willing to embrace data management and analytics. Data can be your friend, even while it's an enemy to your competitor.
The trick is to manage it in all its complexity. And the way to do that is by making it visible, first, and then harnessing that visibility, using a data operations platform, to show where processes and systems are at risk. A data management platform may be expensive, but compare that to the physical equivalent of manually programming ERP systems and troubleshooting error-prone operations processes.
It is, as people like to say, a no-brainer. Manufacturers know they need data management. And the sooner they start, the faster, and better, the benefits.
Bala Ganesh is Director of Project Management at Devo Technology.