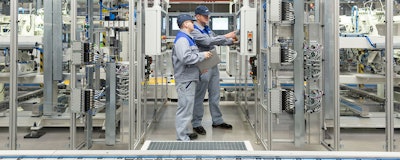 Automotive manufacturers have long led the way as they constantly refined manufacturing processes to work more efficiently, produce less waste and improve quality metrics. From the days when Henry Ford perfected the concept of the assembly line to when Toyota introduced the concepts of lean manufacturing and a constantly seeking higher quality standards, the OEMs have been disruptive innovators in manufacturing.
The First Industrial Revolution used water and steam to power production processes. The Second used electric power to create mass production. The Third used electronics and information technology to automate production. Now a Fourth Industrial Revolution is building on the digital revolution that started in the last century.
The Fourth Industrial Revolution isn't coming—it's here.
It's characterized by a fusion of technologies that blur the lines between the physical, digital, and biological spheres. Manufacturers are leveraging more sophisticated machinery, analyzing immense sets of data and disrupting the traditional sourcing, production and logistics channels. They were among the first industries to embrace the advantages of a digital, global workplace and more changes are on the horizon for the industry.
C-level executives have been pushing to transform business into a more digital environment so that the enterprise can operate more efficiently—and profitably. What has come to be known as "Advanced Manufacturing" requires a broad view into the entire enterprise in order to fully maximize the benefits provided by automation, machine-to-machine data sharing and robotics.
Manufacturing Is Critical for Nation's Economy
As McKinsey noted in a report from 2017, manufacturing makes up nine percent of employment and 12 percent of the nation's GDP in the U.S. but drives 35 percent of productivity growth, 60 percent of exports and 70 percent in private-sector R&D.
In order to continue the innovation and efficiency gains, companies must constantly evolve, always analyzing new technology innovations and deploying them when they are ready to help the enterprise operate more efficiently.
A new challenge has emerged for automotive OEMs as they contemplate the evolution of cities and the changing automotive ecosystem. Autonomous vehicles sharing data will create a new mode for automotive transportation that is quite a departure from the previous model.
A New Skillset is Required
This business transformation requires automotive OEMs to have a skilled workforce that is capable of operating extremely complicated and sophisticated equipment in order to rapidly react to shifts in the marketplace. Skills that the last generation of automotive workers may not possess.
The convergence of artificial intelligence, analytics, the Internet of Things (IoT) and 3D printing and other technologies are transforming the business. The rapid pace of change is why many forward-thinking companies rely on staff outsourcing to ensure they have staff with the right skills and expertise.
An example is provided by the Audi Hungaria Motor facility in Hungary. They hired Leadec to build and install the electrical power supply and install lighting systems as well as data networks, electrical control cabinets and air conditioning systems. They didn't possess this expertise internally and knew it would be performed more efficiently by individuals with specific expertise with electrical systems. A team of 30 technically proficient workers tackled this task as other workers were able to focus on their manufacturing responsibilities.
A Slovakia-based vehicle manufacturer wanted to focus on its core business while outsourcing the highly specialized cleaning of the painting facility. Cleaning of increasingly complex painting systems requires a detailed understanding of all processes. Knowledge of special cleaning technologies such as ultrahigh-pressure water jet cleaning at pressures of up to 2500 bar or dry ice blasting are two of the procedures that the manufacturer's staff did not possess.
Nevertheless, coating defects can still arise. Service provider technicians perform true detective work to uncover quality defects in the paint shop. Root causes of the defects identified are often foreign substances such as fibers, abrasion debris from materials handling equipment, and overspray deposits. Cleaning processes, the employees, or the workpieces themselves can also be the source of contamination. To permanently eliminate the root cause, you must analyze the contaminants and introduce appropriate countermeasures. My company developed a paint defect analysis especially for this purpose. The program analyzes, classifies and determines the origins of foreign substances and takes the remedial steps to ensure they don't create defects.
The expertise to properly evaluate and determine root causes of defects—and how to eliminate them— simply doesn't exist in the typical manufacturing workforce. The most efficient solution is for companies to partner with technical service providers that have that expertise within its workforce.
What to Look for in a Technical Services Provider
A technical services provider can help make certain companies have the skilled workforce they need to continue to focus on their core competency while having the confidence that their outsourcing vendor is meeting their technology needs.
The companies that will thrive in the challenging global manufacturing space need to be flexible and responsive. They require a partner that understands their business and can help them reach their goals.
The ideal technical services provider will be able to assist when companies are building, relocating or upgrading facilities. Their industrial service specialists will be able to conduct technical cleaning and maintain facilities. They will support peripheral production processes and logistics solutions.
Finally, the ideal industrial services provider must be an astute partner that keeps an eye on emerging technology trends and is prepared to expand its range of services to meet company needs.
That means that companies that leverage outsourced technical services can focus on their core manufacturing business, avoiding the distractions of changing technology requirements yet be capable of quickly reacting when market conditions demand it.
William Bell​ is the CEO of Leadec US.