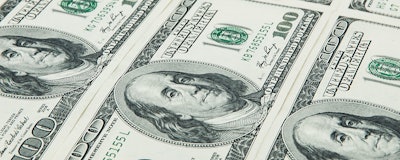 When I was a kid, I grew up in manufacturing facilities. My father worked as a plant manager for Continental Baking Company, the maker of Wonder Bread and Hostess Cakes. On weekends, I would put on a hairnet and wander around the massive facilities, in awe of how everything worked.
As a young adult, I decided to pursue a career in commercial lending. About 12 years in, manufacturing entered my life again, when I took on a client that, ironically, manufactured baked goods. After several years of being their banker and commercial lender for this $10-million, 200-employee manufacturing company in Cincinnati, the owner asked me to join his team as president. I served in that role for several years before returning to sunny Florida and commercial lending.
The experience I gained working directly in manufacturing allows me to better serve our manufacturing clients as a commercial lender. I understand the challenges manufacturers face — particularly as it relates to directing a financially disciplined organization and providing maximum profit and return on invested capital — because I had to do it myself.
Show Me the Money
With the economy improving and manufacturing industry growing, many manufacturers may find themselves in the position to expand or invest in their businesses. Some may be ready to buy their space instead of continuing to lease. Others may want to make an equipment purchase or increase inventory. Still others may be looking to buy out a partner or acquire a competitor. Any manufacturer can find itself in need of working capital to cover payroll and other expenses. And, many smart business leaders refinance existing debt in combination with a new need to bolster working capital and save substantially.
These and other scenarios present the need for financing. But, how do you find the right type of loan for your manufacturing business? There are a few options manufacturers can consider — conventional loans, SBA Loans and alternative funding — each with nuances that should be fully understood before borrowing money.
Conventional Loans
If your manufacturing business is able to qualify under conventional standards and is comfortable having shorter, tighter parameters around a loan, then a conventional loan may be the right fit.
Conventional loan rates are generally lower than SBA loans and alternative funding. However, qualifications for conventional loans tend to be more rigorous and many manufacturers may not meet them.
Considerations for conventional loans include higher cash injections requirements, lower loan-to-cost, higher business cash-flow requirements and collateral considerations. Additionally, conventional loans require more post-closing liquidity and give less consideration for projection-based/start-up lending. Most importantly, conventional approvals include covenants that must be adhered to throughout the life of the loan, and many are structured with demand and balloon payments.
Bottom line: If you can meet the rigorous qualifications required for a conventional loan, it might be your best bet — just be careful to understand all repayment terms and covenants to avoid surprises.
SBA Loans
If your manufacturing company's net worth is less than $15 million and has earned no more than $5 million in two years, the U.S. Small Business Administration's 7(a) loan may be a good option.
Compared to conventional loans, SBA loans are more flexible with cash flow, equity injection and collateral requirements, have longer repayment terms and do not have financial covenants or balloon payments. And, in most cases, the industry standard interest rates charged under the SBA are very favorable.
While SBA loans have historically had a bad rap for requiring a slow and cumbersome application process, banks with a "preferred" lender status with the SBA, like the bank where I work, have shortened the timeline. Preferred lenders do not need the SBA's approval to approve a loan and have the authority to make decisions independently. In our case, our SBA turnaround time is typically less than or equal to that of our conventional division.
Bottom line: If you can't get conventional funding, SBA loans offer flexibility, favorable rates and longer repayment terms — work with a preferred lender to speed up the otherwise potentially long or complicated process.
Alternative Funding
If you need money right away and don't have time to pursue a conventional or SBA loan — or you were turned away by banks — alternative funding may be an option.
The attraction of alternative funding is the speed and ease of securing the funds you need. However, they often come with hefty interest rates. I've seen a client paying a daily rate of 30 percent on a loan secured through alternative funding.
It is important to note, many lenders in this space fall into what would classify as "predatory lending." That's any lending practice that imposes or deceptively convinces a borrower to accept unfair or abusive loan terms. I've seen these types of loans ruin businesses.
One company that I'm very familiar with provides alternative funding in a fair manner by using a crowd-lending model, which ensures a fiduciary responsibility to its investors. As such, the lender heavily researches potential borrowers and only lends what expert underwriters think the borrower can afford. This type of model decreases the likelihood that the borrower will take funding with terms that could eventually destroy the business and instead sets them up for the best chance of success.
I recommend exercising extreme caution and doing extensive homework when exploring alternative funding options. Know the contract inside and out. Ask the lender for the APR, repayment schedule and amortization schedule. If they are unwilling to provide any of these, consider it a red flag. Ask if there are any pre-payment penalties. Get offers from multiple sources so you can compare apples to apples.
Bottom line: If you can't get approved for a conventional or SBA loan or need funds fast, this may be your best option — proceed with extreme caution to avoid predatory lending or terms that could financially ruin your business.
It's an exciting time to be in manufacturing. Whether your company is in a position to grow or is just trying to make the next payroll, financing can be your friend. Make sure that your find the right type of loan for both the long and short term needs, and the right lending partner to help you through.
Patrick Fenech serves as Managing Director of SBA Lending for American Momentum Bank.