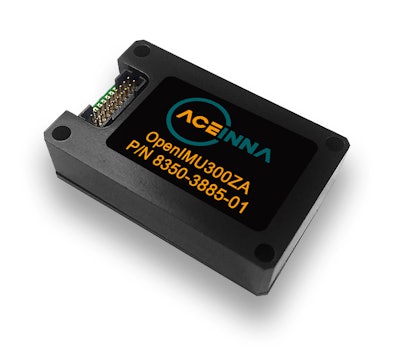 ACEINNA (Andover, MA) recently unveiled their OpenIMU - a supported, open-source GPS/GNSS-aided inertial navigation software stack for low-cost navigation applications.
Applications can include autonomously guided vehicles for industrial applications, driverless cars, factory or industrial robots, drones, ROVs and other smart machines in need of an Inertial Measurement Unit-based sensor network.

Advanced localization and navigation algorithm solutions.

All the code needed for algorithm development.
A freely downloadable stack that includes a FreeRTOS-based data collection and sampling engine, IDE/compiler tool chain, JTAG debugging, data logging, graphing, Allen Variance plots and a simulation environment with advanced sensor error models.
The hardware development kits include JTAG-pod, a precision mount fixture, an OpenIMU300 module, ACEINNA's 5 deg/Hr., 9-Axis gyro, accelerometer and magnetometer sensor suite with an onboard 180MHz ARM Coretex floating-point CPU.
developers.aceinna.com; www.aceinna.com