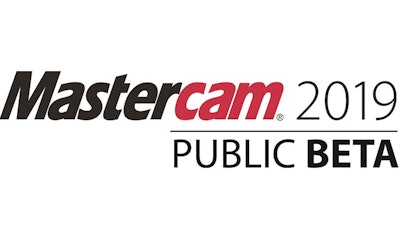 The Mastercam (Tolland, CT) 2019 Public Beta is now open to all currently maintained Mastercam customers. Shops all over the world, from small job shops to Fortune 100, get a chance to test-drive Mastercam 2019 before it is released and provide valuable feedback to help shape the final product. Participants in the Public Beta get an early look at dozens of powerful new tools for simple to complex jobs. Here are a few things you'll see in Mastercam 2019 Beta:
New 2D/3D Milling features, which improve toolpath efficiency and control.
Accelerated dinishing is expanded with taper and lens-style tool support.
Surface and solid modeling improvements simplify CAD for CAM and deliver greater design and geometry editing tools for shop-floor programmers.
Powerful turning and mill-turn improve productivity with new plunge/grooving strategies, additional PrimeTurning support, expanded 3D tool and holder support, plus bar feed and import/export operation improvements.
Improved validation with new, advanced toolpath display and analysis, plus improvements to machine simulation and support.
Streamlined workflow and graphics with new sectional views, level and planes management.
For more information on Mastercam's Beta release, please visit www.mastercam.com/en-us/Public-Beta.