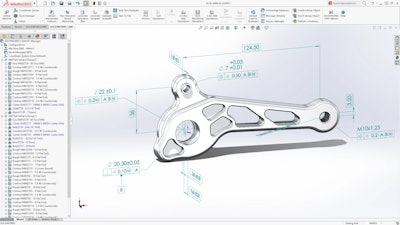 Dassault Systèmes has launched SOLIDWORKS 2018, which features an integrated, end-to-end solution for the design to manufacturing process that enables businesses of any size to rethink their approach to how parts and products are made. Powered by Dassault Systèmes' 3DEXPERIENCE platform, SOLIDWORKS 2018 features:
Support for a complete design through manufacturing strategy with solutions that simplify the interactions between disciplines across the product development workflow.
Smart manufacturing — a connected and seamless flow of data is available to all teams involved in product development.
The ability to collaborate concurrently to more rapidly and cost-efficiently design a product or part, validate its function and manufacturability, manage its data and related processes, streamline and automate its manufacturing, and inspect it.
Changes in design or manufacturing automatically flow to all related models, programs, drawings and documentation.
SOLIDWORKS CAM, a new application that provides rules-based machining with knowledge capture to allow for the automation of manufacturing programming.
CAM allows designers and engineers to gain a greater understanding of how their designs are made, make more informed decisions, and quickly create prototype parts and manufacture in-house to control quality, cost and delivery.
The ability to execute new "build to order" strategies with custom parts that are automatically designed and programmed in seconds.
For more information, visit https://launch.solidworks.com.